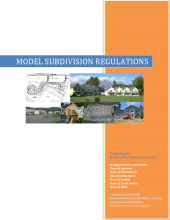 This project was funded by a grant from the Massachusetts Executive Office of Energy and Environmental Affairs through their EOEEA Planning Assistance Grant Program.
PVPC developed a Working Group consisting of the Planners/Engineers/ Public Works/Conservation/Public Health officials of the communities of Agawam, Belchertown, Easthampton, Ludlow, South Hadley and Ware. These communities were included because of the expertise and experience of their municipal staff, the historical rate of residential growth that they have experienced, and the age of their current Subdivision Regulations.
---
he purpose of the project was to develop Model Subdivision Regulations incorporating the most up-to-date design standards and best practices and incorporating the policies and design elements of Low Impact Development (LID), Complete Streets, Green Streets, Healthy Communities and Stormwater Management (EPA/DEP MS4 Permitting).
Most communities in the Pioneer Valley region have old and antiquated Subdivision Regulations, many adopted 20-30 years ago.  These old regulations do not take into consideration, and can be in conflict with, subsequent revisions to the state's "Subdivision Control Law" which has revised some of the administration process.  They also don't take into consideration, and do not result in, developments that are designed and function to provide for safe and convenient access for all users of all ages and abilities, including pedestrians, bicyclists, motorists, public transportation users, and delivery and emergency vehicle operators to all uses, features and facilities within the development, connections to existing and planned public ways, vehicular, pedestrian and bicycle facilities, and connections to adjacent ways and properties.
These out-of-date regulations require, and result in:
the construction of over-designed roads which:
are unnecessarily wide
don't necessarily reflect the actual number or types of vehicles utilizing them
result in the creation of more stormwater run-off, increased heat islands, and increased construction and maintenance costs.
Stormwater management systems that don't adequately take into consideration:
the natural environmental characteristics of the site
the impacts on abutting properties and downstream flooding
the requirements of the new EPA/DEP MS4 permitting requirements
climate change which has changed the characteristics of extreme storm events and increased flooding that are not adequately addressed by the traditional stormwater management designs nor the old FEMA and National Flood Insurance programs
changes in the National Oceanic and Atmospheric Administration's rainfall maps
increasing frequency of 100-year storm events
The goal of this project was to develop Model Subdivision Regulations that included:
updated design and construction standards that meet the state-of-art and current best practices of the industry
administrative procedures and processes that are efficient and effective
design elements that reflect the growing awareness of the natural environment, people's healthy lifestyles and hazard mitigation (i.e. Low Impact Development (LID), Complete Streets, Green Streets, Healthy Communities, climate change and stormwater management)
Please contact Ken Comia (
kcomia@pvpc.org
) if you have any further questions or comments regarding this project.
Valley Vision 4: The Regional Land Use Plan for the Pioneer Valley
Associated Communities:
Agawam
Belchertown
Easthampton
Ludlow
South Hadley
Ware