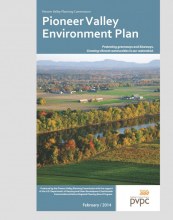 A clean and healthy environment is vital for everyone's quality of life. This includes the natural diversity of biological species and communities, and the ability of ecosystems to be resilient. The human impact on our environment often creates an imbalance in nature disrupting ecological integrity, and human enjoyment of our landscape. The Pioneer Valley Environment Plan strives to correct the imbalances created by humans to restore and or protect ecological integrity, and identify strategies for enhancing community character and quality of life.
The Environment Plan addresses the following issues, and provides strategies for regional actions:
Water quality;
River continuity and habitat;
Parks and open space;
Vibrant human-riverfront connections.
The goals of the Environment Plan include:
Eliminate or reduce bacteria, pathogen, and nitrogen loading from combined sewer overflows (CSOs).
• Eliminate toxins (including PCBs and pesticides) within the river to reduce human and wildlife exposure.
• Reduce nutrient loading and other nonpoint sources of pollution.
• Promote smart growth, land protection, and environmental conservation to support river health.
• Prevent habitat loss and restore degraded habitat.
• Promote improved flow and fish passage to ensure clean, free-flowing, and plentiful rivers for future generations.
• Prevent erosion and sedimentation induced by human activity.
• Promote greater public access for Connecticut River recreation and increased use of existing recreational facilities.
Environment Plan Articles
7 years 2 months ago
PVPC staff will meet with the Belchertown Conservation Commission at Town Hall (2 Jabish St).