Community and Urban Forestry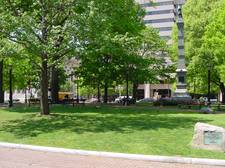 Forests function as landscape-scale green infrastructure, while individual trees in yards and on street rights-of-way provide site-specific ecosystem services. Forests on public land make up a significant amount of the tree canopy in Hampshire and Hampden Counties. In 2018, around 35% of forests in Hampshire County were owned on the state or municipal level. Whether a forest stand or a single street tree, these trees provide essential benefits for humans and improved habitats for rural, suburban, and urban wildlife.
Community forestry is defined as the planting, maintenance, care and protection of publicly-owned tree stock, while urban foresrty is the same for population in urban settings. The work of forestry covers not only large tracts of woods, but also landscaped boulevards, public parks and shade trees, greenways, and public street trees. In all cases, the role of planning is to ensure that trees are valued, maintained for safety, and strategically planted and used for the essential economic, infrastructural, and environmental functions they serve.
For more information, please contact Project Manager Corrin Meise-Munns at cmeisemunns@pvpc.org or 413 687-4107.