Springfield Republican: Springfield City Council approves PVTA landing pads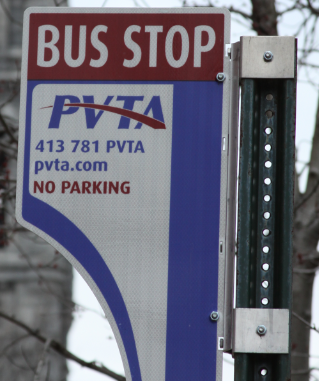 By Brian Steele
The City Council on Monday night approved a plan for the PVTA to install concrete landing pads at 143 bus stops around the city to allow easier handicapped accessibility.
***
Councilor Kateri Walsh, chairwoman of the Maintenance and Development Committee, said the PVTA's plan will help people throughout Springfield access public transportation.
David Elvin, a senior planner for the Pioneer Valley Planning Commission, said the pads will be placed at bus stops that "are either muddy, or there's grass that's uneven so it's difficult for people using wheelchairs or scooters" to get on or off a bus.
The pads, which are 8 feet by 5 feet concrete slabs, will be used to connect sidewalks to curbs at locations where they are separated by grass or tree belts.
The project is funded primarily by a $105,000 grant from the Massachusetts Department of Transportation. The PVTA plans to use money from its capital budget to complete the work by Sept. 30.
"We've made sure that all these locations will be retained in our bus stop consolidation project," said Elvin.