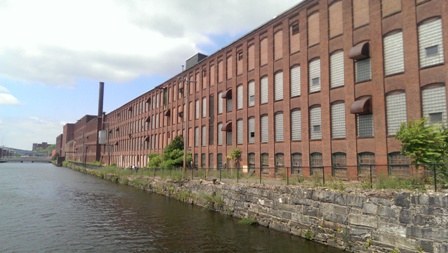 Since 1999, PVPC has supported brownfield projects in the Valley through site assessment, planning and clean-up assistance programs funded by grants from the US Environmental Protection Agency (EPA). Currently, PVPC offers site assessment and cleanup assistance programs. A region-wide brownfields plan funded by the US Department of Housing and Urban Development (HUD) as part of the multi-agency Sustainable Communities Initiative's Knowledge Corridor project was completed in early 2014. 
What's a Brownfield?
EPA defines brownfields as "real property, the expansion, redevelopment or re-use of which may be complicated by the presence or potential presence of a hazardous substance, pollutant, or contaminant." More than 4,000 contaminated or possibly-contaminated sites in Hampden and Hampshire counties have been reported to the Massachusetts Department of Environmental Protection (MassDEP). While most of these sites have been cleaned up, those that remain have the potential to negatively impact the region's health, natural resources, and economic development. 
Assessment Program
PVPC's site assessment program helps measure the type and extent of contaminants through Phase I and Phase II environmental site assessments and potentially cleanup plans (Phase III). Assessments of eligible sites that are approved by PVPC's Brownfields Advisory Committee are conducted by a licensed consultant contracted by PVPC. Eligible applicants can include municipalities, non-profits, and private parties. For more information, click here.
Cleanup Revolving Loan Fund (& Subgrant) Program
PVPC provides low-interest loans to eligible, public- and private-sector entities to clean up contaminated properties. The RLF is limited to sites contaminated with hazardous substances; sites with co-mingled petroleum releases may also be eligible. Subgrants may be available to eligible entities including municipalities, redevelopment authorities and non-profit organizations. Project selection and financial terms are guided by PVPC's Brownfields Advisory Committee and its Loan Review Subcommittee. Sites must generally have completed Phase II assessment activities before receiving RLF funds. For more information, click here. Please note that the US EPA grant supporting this program expired in December 2014; options for new funding are being explored. 
Planning Documents
PVPC's Regional Brownfields Plan (2014) is viewable here. An EPA-funded area-wide planning project focused on Chicopee's downtown West End was completed in partnership with the City of Chicopee in 2012. It is available on the City's website here. 
Events & Meetings
The next meeting of PVPC's Brownfields Advisory Committee will be held in spring 2015. Date and time TBD. 
Contacts
Questions regarding PVPC's brownfields program should be directed to Christopher Dunphy, Principal Planner/Manager, at (413) 781-6045 or cdunphy@pvpc.org.