Connecticut River Clean up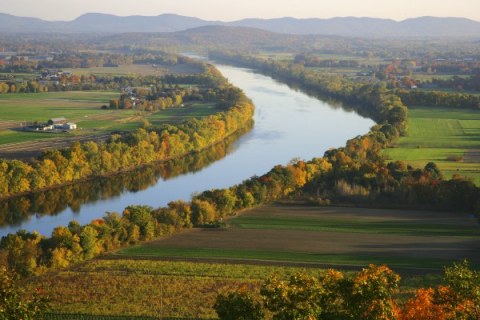 The Connecticut River is our region's natural treasure, the signature feature that makes our region recognizable.  It is New England's longest river and a designated federal American Heritage River.  However, urbanized portions of this treasure still suffer from water pollution, due to combined sewer overflows and stormwater run-off.
The Connecticut River Clean-up Committee (CRCC) is composed of representatives from four Massachusetts communities (Springfield, Chicopee, Holyoke, and Ludlow) and the Pioneer Valley Planning Commission (PVPC). Each of the municipal members are under EPA Administrative Orders to address the negative water quality impacts to the Connecticut River from combined sewer overflows (CSOs). CRCC was formed in 1993, with the signing of an intergovernmental compact between the communities and PVPC. The committee is an action-oriented entity that explores funding sources and opportunities for intermunicipal cooperation on river cleanup. CRCC has been instrumental in leading efforts to secure federal funding for CSO control.
Over the past 15 years, the Connecticut River Clean-up Committee has made great strides in cleaning up the Connecticut River, with the support of our Massachusetts Congressional delegation.   In fiscal years 1999 through 2010, CRCC worked to secure $17.6 million in funding for clean-up of our rivers, including $9.6 million in federal funds and $8 million in matching local funds.  With the assistance of this funding, we have been able to reduce the number of CSOs discharging raw sewage to the Connecticut River from the original number of 132 down to 65 CSOs, and to reduce the volume of CSO effluent discharges by 50%.
Using the CRCC as a vehicle, we have achieved a high degree of inter-municipal collaboration achieved in absence of a metropolitan district commission.   Key achievements of the regional collaboration as a whole include:
Over one billion gallons/year in

CSO

discharges reduced;
18 miles of Chicopee River and tributaries have no CSOs;
The two largest CSOs on Connecticut River reduced by 415 million gallons per year .
Further information about the Connecticut River can be found at the connecticutriver.us website – which provides information on river access points, trails, boating and water quality.  PVPC and partners have been monitoring Connecticut River water quality  - using volunteer participation - regularly since 2008 and posting the results on the website.
Current Projects

As part of a recent awarding of funding from the Environmental Protection Agency's (EPA) Urban Waters Small Grant program, the Pioneer Valley Planning Commission (PVPC), in partnership with the Holyoke Conservation Commission, Holyoke DPW, Holyoke Community College, and the Enchanted Circle Theater Group, will develop a plan to address stormwater runoff and combined sewer overflows (CSO) associated with Day Brook in the city.