Health Impact Assessment (HIA) of Pleasant Street Improvements Completed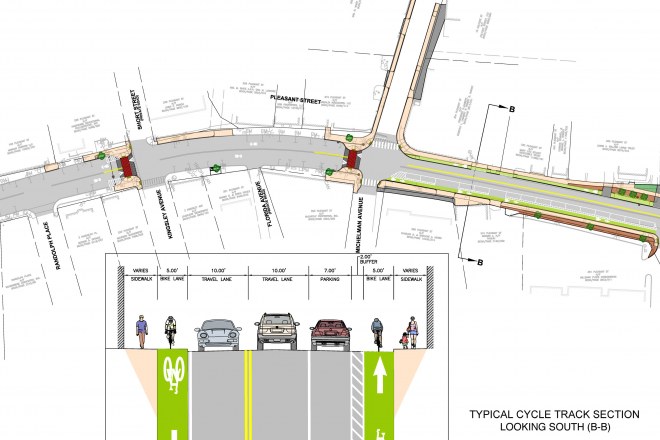 PVPC has completed a Health Impact Assessment (HIA) of the City of Northampton's proposed improvements to Pleasant Street. The results of the HIA show that the proposed Pleasant Street Improvements would have an overwhelmingly positive health impact with local and regional significance. 
The Pleasant Street neighborhood has relatively good health outcomes compared to the state as a whole. Most importantly, it provides a regionally significant location in which people who want (or need) to walk or bicycle for every day needs are able to so. Utilitarian walking and bicycling has been shown to have significant health and economic benefits, and our assessment of Pleasant Street shows this is already happening at a local level. 
Proposed Pleasant Street Improvements are likely to result in a decrease in bicyclist mortality (from increased physical activity) worth about $3.5million-$4.6million. This benefit alone is greater than the total expected project cost. This is consistent with what we have seen in Northampton to date: we estimated that improvements in Northampton's bicycle network to date, have resulted in a decrease in mortality which will be worth about $150million over the next 20 years—ten times what has been invested in Northampton's bicycle network so far.
Pleasant Street Improvements will also likely reduce injuries and fatalities due to traffic crashes. Part of the project area is in the sixth highest rated bicycle crash cluster in the state as evaluated by MassDOT. If a single pedestrian or bicycle fatality is avoided as a result of the improvements, it will outweigh the entire project cost.
Perhaps most significantly, the proposed Pleasant Street improvements are tied to two affordable housing developments. Pleasant Street is very well suited to affordable housing. It provides a wide range of goods and services and employment opportunities within walking distance, as well as very good transit options. New affordable housing units on Pleasant Street will have numerous positive health impacts for their occupants and the proposed Pleasant Street Improvements will strengthen those benefits—by improving conditions for walking and bicycling, making the street safer, greener and more appealing. Low income is associated with poor health outcomes but there is evidence that appropriately located affordable housing can support long-term health improvements with paybacks that last generations.
The HIA was performed with Metropolitan Area Planning Council (MAPC) and Massachusetts Department of Public Health (MDPH) and was funded by a grant from the Centers for Disease Control and Prevention (CDC).
The final report can be downloaded below.​
Documents
HIA of Pleasant Street Improvements, Final Report
A final report for a Health Impact Assessment (HIA) which examined proposed improvements to Pleasant Street in Northampton

Pleasant St HIA_Draft_151026_03_web.pdf