Holyoke Bike Network Plan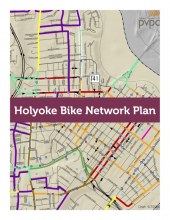 PVPC worked with the City of Holyoke to develop a bike network plan for the City's streets. The plan is currently in draft format and is being reviewed by city staff and the Holyoke bicycle and pedestrian committee. Download the plan below.
The Holyoke Bike Network Plan is intended to guide the City of Holyoke as it plans and implements a complete streets network. The Plan:
evaluates how well the city's street network is serving bicyclists,
prioritizes where bicycle infrastructure improvements are most needed, 
identifies key streets that, when improved, can form a bicycle network that will provide access to most parts of the city for bicyclists with varying skill and confidence levels. 
Ultimately, the plan sketches out a Proposed Bicycle Network network that strives to be convenient, safe, comfortable, and well-connected for diverse bicyclists. It classifies the Bicycle Network into a set of typical street-types and presents a range of options for improving those street-types to accommodate bicyclists. 
The maps shown in this plan can be viewed through an online interactive GIS format at: http://tinyurl.com/znup78e. The online viewer enables a user to turn layers on and off, change layer transparency, and see underlying data embedded in the GIS layers. High resolution versions of the maps can also be downloaded below.
This work was made possible by funding from Mass in Motion, an initiative of the Massachusetts Department of Public Health.