Municipal Regional Roundtable & VDC - Keynote: Regulations for Adult Use of Marijuana PANEL
Thursday, May 10, 2018 - 1:00pm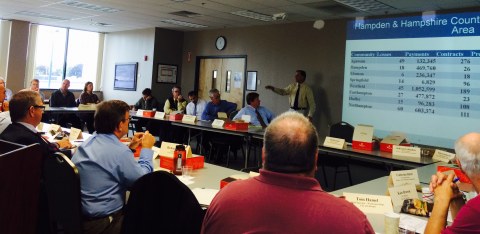 Municipal Regional Roundtable and Valley Development Council
District Local Technical Assistance 2018
Keynote: Regulations for Adult Use of Marijuana PANEL
---
The Pioneer Valley Planning Commission (PVPC) and the Valley Development Council jointly invites municipal leaders of our 43 member municipalities to join us for a keynote item panel presentation focused on Regulations for Adult Use of Marijuana at the next Municipal Regional Roundtable and Valley Development Council meeting. Local government leaders will receive updates from MA Cannabis Control Commissioners and legal counsel from KP Law (still waiting confirmation) on the regulations concerning the adult use of marijuana with an opportunity for Q&A.  
Our panel members are:
Kay Doyle, Cannabis Control Commissioner
Jennifer Flanigan, Cannabis Control Commissioner
Katie Laughman - KP Law (unconfirmed)
Date - Time - Location:
This event will take place on Thursday, May 10, 2016 from 1:00pm to 3:00pm at the Administrative Offices of the PVPC located at 60 Congress Street, Springfield, MA in the Large Conference Room on the 2nd floor. 
RSVP:
To attend, please be sure to RSVP by May 7.  To RSVP, contact Mary Mazik, PVPC Administrative Assistant, at 413.781.6045 or email mmazik@pvpc.org.  For additional information of this event, contact Senior Planner Larry Smith at lsmith@pvpc.org or Municipal Services Manager Joshua A. Garcia at jgarcia@pvpc.org.
---
Biography HERE (coming soon)