Western Mass. officials meet to discuss new MassINC report on transformative developments in Gateway Cities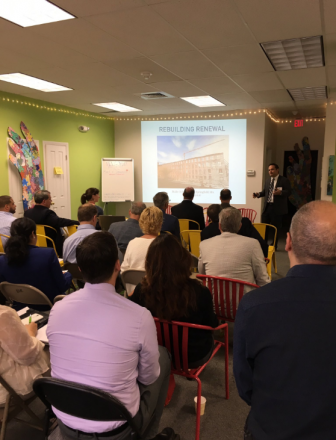 By: The Republican Business Desk
July 6, 2016
SPRINGFIELD---A panel of economic development leaders representing the Pioneer Valley's urban core of Springfield, Chicopee, Westfield and Holyoke came together last week to discuss a recent report issued by MassINC's Gateway City Innovation Institute on Transformative Development.
The report - Rebuilding Renewal: An Analysis of State Investment in Gateway Cities and a Work Plan for Delivering Transformative Development – was co-authored by Northampton resident Dan Hodge, principal of Hodge Economic Consulting, who presented its findings to a packed room at Make-It Springfield on Worthington Street. The full report is embedded below.
Make-It Springfield is a partnership between UMass and MassDevelopment, the state's finance and development agency. Both UMass and MassDevelopment are funding the effort with help from landlord SilverBrick Lofts, according to Laura Masulis, the MassDevelopment Transformative Development Initiative fellow working for MassDevelopment in Springfield.