Regional Data Sharing Project Wins National Award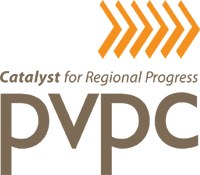 August 7, 2014--The National Association of Development Organizations (NADO) has awarded a 2014 Innovation Award to the Regional Organizations Advanced Data Sharing Partnership (ROADS). This collaborative initiative of the Pioneer Valley Planning Commission (PVPC), the Economic Development Council of Western MA (EDC), the Regional Employment Board of Hampden County (REB), and the Franklin Regional Council of Governments (FRCOG) was created to provide key regional economic, planning, and workforce data through a publicly accessible portal. PVPC submitted the award application to NADO on behalf of the ROADS partnership.
"Information has the power to transform regions, making them more vibrant, competitive, resilient, and livable," said PVPC Executive Director Timothy W. Brennan. "The ROADS initiative recognizes this reality by striving to make reliable socioeconomic information about the Pioneer Valley readily accessible and usable to a broad array of the region's government, business, and civic sector leaders, thereby bolstering our regional capability to collectively think, learn, plan, and act."  
The Pioneer Valley Data Portal (www.pioneervalleydata.org) offers hundreds of data sets, such as statistics on poverty, health, crime, education, employment, transportation, and housing, all covering geographical regions from Franklin County, Massachusetts to the Central Region in Connecticut. Rather than duplicating existing sources of easily accessible data (such as Census Bureau or Bureau of Labor Statistics information), the portal offers a collective resource of information that may be difficult to locate for the inexperienced user, capturing these data sets in a database and keeping them updated.
"We are very pleased that NADO chose to recognize the innovative approach our region has taken to make important data available to organizations, municipalities, and individuals," said Allan W. Blair, President and CEO for the EDC. "The ROADS Project is another example of the collaborative and creative ways our region solves problems. Congratulations to the project team for their hard work over the past two years."
"We are delighted that this collaborative initiative has been recognized by NADO in its goal to provide valuable strategic, planning, and research data to local and regional stakeholders through our public access portal," said David Cruise, President and CEO of the Regional Employment Board of Hampden County (REB).
"The portal provides a unique opportunity to develop and share new region-specific data sets for use by not only the project partners but a variety of stakeholders," said Linda Dunlavy, Executive Director of FRCOG.
NADO is a Washington, DC-based association that promotes programs and policies that strengthen local governments, communities, and economies through regional cooperation, program delivery, and comprehensive strategies. The association's Innovation Awards program recognizes regional development organizations and partnering organizations for improving the economic and community competitiveness of our nation's regions and local communities. Award winners will be showcased during NADO's 2014 Annual Training Conference, August 23-26 in Denver, Colorado.