Post-Hurricane Irma Deployment Q&A with Public Health Emergency Preparedness Planner Stephanie Bozigian-Merrick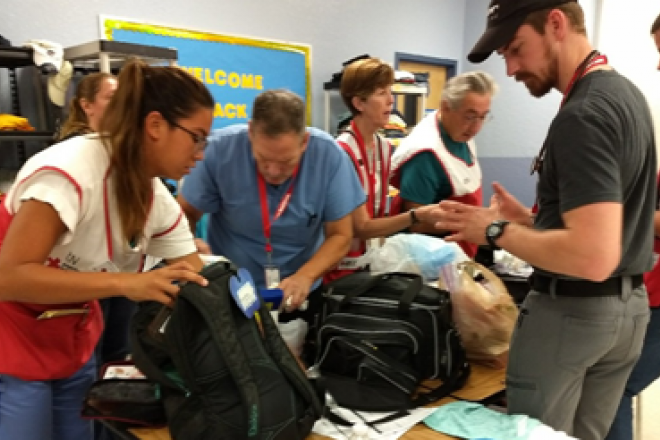 From September 9th through the 11th of 2017, Hurricane Irma battered much of Southern Florida with particular intensity in the Florida Keys where it made landfall on the 10th.
PVPC Public Health Emergency Preparedness Planner Stephanie Bozigian-Merrick, RN, BSN recently returned from a deployment to that region alongside Holyoke Public Health Nurse Deborah Schaier RN, BSN through the American Red Cross Disaster Health Services Division.
She has previously worked as an Infectious Disease Response Nurse at the Massachusetts Department of Public Health and has deployed to many disasters over the years - including Haiti after the 2010 earthquake and Joplin, Missouri after the 2011 tornado.
Her first disaster response experience came at a young age when she was traveling with family in Greece in the 1970's and saw firsthand how villagers in a small town outside of Athens worked together in the wake of an earthquake.
PVPC leadership and colleagues worked with her to ensure she could participate in this disaster response effort while keeping Hampden County's emergency preparedness work on track.
She shared her experience with Hurricane Irma and disaster response in general with PVPC Public Affairs Manager Pat Beaudry a week after returning.
Q: Walk me through the deployment experience. How did you get on the ground and what type of work were you doing?
We landed in Orlando where the American Red Cross had set up a staging location. Personnel were evaluated for fitness before being assigned to various parts of the state of Florida. Because of my previous experience with disaster relief I was assigned to the Keys - about an eight hour drive from Orlando.
There I was tasked with staff wellness nursing - caring for other responders' well-being. Newer responders in particular often don't want to quit after their 12-hour shift, recognizing there is still a great need for their assistance once their day has ended.
Based in a shelter set up in a high school in Marathon, it was my job to travel up and down the Keys checking in on responders to make sure they were taking care of themselves and not working themselves sick.
The unseasonable heat and humidity made working long days on the ground particularly challenging for responders during this deployment.
Q: What was it like on the ground?
Initially, there was no drinkable water or electricity. While the mangroves are able to survive the influx of saltwater brought on by this type of storm, most other types of vegetation were dead or dying as a result. That type of large scale rotting on top of spilt sewage and all types of other chemicals made for a very unpleasant odor common in post-hurricane scenarios.
There was a great deal of water and wind damage with about 25% of homes completely totaled and 65% significantly damaged in the region.
Q: What lessons did you bring back to the Pioneer Valley?
I was really interested to see how agencies who have not previously worked together collaborated under these conditions. Irma's large geographic area required many different agencies to be involved in response efforts.
While of course there were bumps along the way, the different agencies' ability to come together and figure out how to overcome them was really impressive to me while I was there.
Q: Are there any other thoughts you came back with as a result of your deployment to the Florida Keys?
While I was grateful to once again work with great responders from across the country - including California, Idaho, New Jersey and Maine, among others - it was clear that there are just not enough volunteers prepared to respond to any given disaster in any one region.
Flying in responders from all over the country is a good backup plan, but regions need to take more seriously their own area's ability to recruit and train volunteers who can initiate response efforts well before folks like myself can get in on the ground from out-of-state. This is one of the greatest challenges we struggle with as public health emergency preparedness planners here in Western MA – trying to help make sure there are enough trained volunteers to respond after a disaster.
That need is most acute in healthcare professions.
Whether a person wants to learn how to volunteer as a nurse or EMT, in a food clinic, or staffing a shelter in times of emergency, there are many great organizations like the American Red Cross, National Disaster Medical System, Doctors Without Borders, or the Western MA Medical Reserve Corps. to get involved in to ensure your region is prepared to respond when disaster strikes.