Exec. Director Tim Brennan: Let's keep the infrastructure renewal conversation going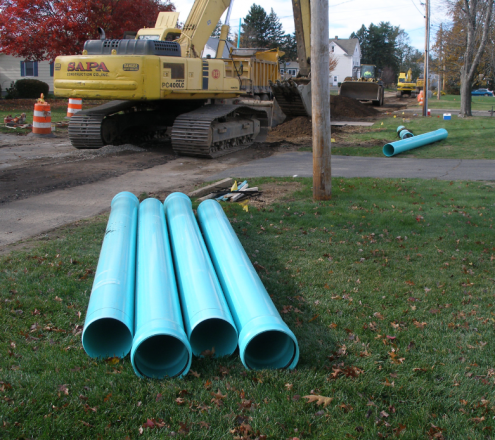 At the Pioneer Valley Planning Commission (PVPC), we have been encouraged of late to hear such a renewed focus on infrastructure in public discourse. While not always the most exciting topic, it seems more and more residents are realizing the critical impact infrastructure has on our region's economy and quality of life here in Western Massachusetts.
Roads and bridges are often the first thing that comes to mind when people think infrastructure – and rightfully so! Our Transportation Section works with state administrators, DPW directors, municipal engineers, and our local leaders to determine what projects get completed each year within our region. This section also has continued to work on rail connectivity – most recently the completed north-south Knowledge Corridor passenger service reestablished to serve Holyoke, Northampton and Greenfield. With Connecticut's new commuter rail service connecting New Haven, Hartford and Springfield scheduled for launch in 2018, the Valley stands to gain much greater access to points south, including Bradley International Airport and New York City. Lastly, we remain committed to working with our partners at the local, state and federal levels to establish a reliable rail connection linking Springfield, Palmer, Worcester and Boston.
Our Community Development Section is also no stranger to infrastructure improvements in the Valley. Over the years, they have leveraged federal funding to repair or replace over 250 septic systems, as well as resurfacing 25 miles of roadway – mostly in our smaller, rural communities with routinely tight local budgets. Other infrastructure projects tackled by PVPC's Community Development staff in these towns – primarily the Valley's southern Hilltowns as well as in eastern Hampden county – have included the installation of sidewalks and guardrails, fire safety improvements, water and sewer lines; and a water tower.
PVPC's Land Use & Environment Section also plays an important role in ensuring the Valley's infrastructure well-being. Charged in part with protecting the health of our region's water bodies and waterways – including this region's crown jewel, the Connecticut River – the PVPC's land use & environment staff members have been diligently working to remediate the harmful impact that Combined Sewer Outflows (CSOs) have on the Connecticut River and its tributaries. Partnering with the urban core cities of Springfield, Chicopee and Holyoke as the PVPC and its Connecticut River Clean Up Committee, the Commission continues to implement projects designed to reduce the flow of pollutants into the Connecticut, especially during periods of rainy weather and snow melt. In that same vein, we also have enthusiastically sought to install green infrastructure and promote the planting of more trees and rain gardens in our region's denser urban neighborhoods. As effective and affordable means to boost environmental quality, PVPC staff from this section also conduct a great deal of infrastructure planning as part of the larger Commonwealth-wide Complete Streets program which ensures roadways are designed to sensibly accommodate pedestrians and bicyclists after decades of vehicle-centric policies.
Last, but certainly not least – infrastructure also means ensuring broadband access to many of the Pioneer Valley's rural communities, which lack broadband service or are severely underserved. PVPC's Economic Development Section has continuously advocated for broadband access in the dozens of communities who still are unable to fully attract and retain businesses and entrepreneurs who most rely on high-speed internet to conduct their business, but otherwise would be a perfect and cost effective fit.
In the months to come, we are hopeful leaders in Washington will signal their intentions to significantly boost infrastructure investments here in Massachusetts and elsewhere across our nation. Here at the PVPC, we stand ready to partner with any and all levels of government to continue to improve our region's built environment in the pursuit of a higher quality of life for residents of the Valley as well as a vibrant and competitive economy.
Tim Brennan is the Executive Director of the Pioneer Valley Planning Commission – the state designated regional planning agency for the 43 cities and towns of Hampden and Hampshire county.
Link to MassLive.com posting here
Continuing, Comprehensive, and Cooperative Planning Process
Average Annual Daily Traffic
American Association of State Highway and Transportation Officials
Advisory Council on Historic Preservation
Americans with Disabilities Act (1990)
Alternative Fuel Vehicles
American Heritage Rivers Initiative
American International College
Association of Metropolitan Planning Organizations
American Planning Association
Aquifer Protection District
American Recovery and Reinvestment Act (of 2009)
Automatic Traffic Recorder
Average Vehicle Ridership
Barnes Aquifer Protection Advisory Committee
Business Improvement District
Board of Appeals (or Adjustment)
Berkshire Regional Planning Commission
Bureau of Transportation Statistics
Clean Air Act Amendments of 1990
Commercial Area Revitalization District
Community Action Statement
Central Business District
Cooperating Colleges of Greater Springfield
Community Development Action Grant
Community Development Block Grant
Centers for Disease Control
Community Development Corporation
Community Development Fund
Community Development Plan
Community Economic Development Assistance Corporation
Community Economic Development Assistance Corporation
Comprehensive Economic Development Strategy
Community Enterprise Economic Development
Citizen Housing and Planning Association
Community Housing Development Organizations
Capital Improvement Inventory System
Capital Improvements Plan (or Program)
Congestion Mitigation and Air Quality Improvement Program
Congestion Management Process
Central Massachusetts Regional Planning Commission
Consolidated Metropolitan Statistical Area
Commonwealth Procurement Access and Solicitation System
Community Preservation Act
Citizen Planner Training Collaborative
Capitol Region Council of Governments
Community Service Block Grant
Department of Conservation and Recreation
Department of Environmental Protection
Division of Employment and Training
Department of Housing and Community Development
Direct Local Technical Assistance
Department of Energy Resources
Department of Transportation
Department of Public Works
Developments of Regional Impact
Production of affordable housing across a broad range of incomes 
Economic Assistance Coordinating Council
Economic Development Administration
Economic Development Council
Economic Development District
Economic Development Data and Information System
Economic Development and Industrial Corporation
Environmental Impact Report
Environmental Impact Statement
Environmental Notification Form
Economic Opportunity Area
Executive Office of Administration and Finance
Executive Office of Economic Affairs
Executive Office of Elder Affairs
Executive Office of Energy and Environmental Affairs
Executive Office of Labor and Workforce Development
Environmental Protection Agency
Environmental Site Assessment
Functional Classification (of roadways)
Federal Housing Administration
Federal Highway Administration - An agency of the United States Department of Transportation that provides financial and technical support to each state for constructing, improving, and preserving America's highway system.
Federal Highway Administration
Franklin Regional Council of Governments
Federal Transit Administration
Geographic Information System - A system for capturing, storing, analyzing and managing data and associated attributes which are spatially referenced to the earth.
Geographic Information System
Global Positioning System
Holyoke Community College
Housing Development Support Program
Home Modification for Individuals with Disabilities Loan
Historic Overlay District
Homeownership Opportunities Program
Housing Preservation Grant
U.S. Department of Housing and Urban Development
Intermodal Surface Transportation Efficiency Act of 1991
Intelligent Transportation Systems
Job Access and Reverse Commute
Jacob's Ladder Scenic Byway
Joint Transportation Committee
Limited English Proficiency
Low Income Home Energy Assistance Program
Low Income Housing Tax Credit
Local Option Transportation Tax
Local Pavement Management System
Local Technical Assistance
Massachusetts General Laws
Hazardous waste cleanup regulations
Uniform procurement law for local governments
Planning/comprehensive permits
Smart growth zoning and housing production
Smart growth school cost reimbursement
Moving Ahead for Progress in the 21st Century
Metropolitan Area Planning Council
Massachusetts Association of Regional Planning Agencies
Massachusetts Department of Transportation
Massachusetts Geographic Information System
Minority Business Enterprises
Massachusetts Development Finance Agency 
Massachusetts Environmental Policy Act
Massachusetts Geographic Information Council
Massachusetts Historical Commission 
Massachusetts Housing Partnership
Massachusetts Industrial Finance Agency
Municipal Incentive Grant
Massachusetts Municipal Association
Massachusetts Office of Business Development
Massachusetts Office on Disability
Memorandum of Understanding
Metropolitan Planning Organization
Metropolitan Planning Organization
Montachusett Regional Planning Commission
Metropolitan Statistical Area
Manual of Uniform Traffic Control Devices
Martha's Vineyard Commission
Merrimack Valley Planning Commission
Massachusetts Water Resources Authority
National Association of Regional Councils
New England Association of Regional Councils
National Historic Preservation Act of 1966 (as amended)
Neighborhood Housing Services program
National Highway Traffic Safety Administration
Northern Middlesex Council of Governments
Nantucket Planning and Economic Development Commission
National Pollutant Discharge Elimination System 
National Trust for Historic Preservation
National Transportation Safety Board
Old Colony Planning Council
Overall Condition Index (Pavement)
Open Space and Recreation Plan
Priority Development Fund
Purchase of Development Rights
Peak Hour Traffic (or Trips)
[Metropolitan] Planning Funds
Pavement Management System 
Primary Metropolitan Statistical Area
Pavement Management Users Group
Public Participation Process
Planned Unit Residential Development
Pioneer Valley Regional Brownfields Cleanup Revolving Loan Fund
Pioneer Valley Transit Authority
Quaboag Valley Community Development Corp.
Rental Development Action Loan
Regional Employment Board
Regional Education and Business Alliance
Regional Economic Models, Inc.
Request for Qualifications
Regional Greenhouse Gas Initiative
Regional Pavement Management System
Regional Transit Authority
Regional Technology Corporation
Regional Transportation Plan
Safe, Accountable, Flexible, Efficient Transportation Equity Act: A Legacy for Users
Small Business Administration
Supplier Diversity Office 
State Implementation Plan (for air quality)
Sustainable Knowledge Corridor
Statewide Planning and Research Funds
Southeastern Regional Planning and Economic Development District
Springfield Technical Community College
Statewide Transportation Improvement Program
Surface Transportation Program
Targeted Brownfields Assessment
Transportation and Community System Preservation [Pilot Program]
Transportation Demand Management
Transfer of Development Rights
Transportation Equity Act for the 21st Century
Transportation Improvement Program
Traditional Neighborhood District
Transit Oriented Design (or Development)
Transportation Research Board
Transportation Systems Management
University of Massachusetts
University of Massachusetts Donahue Institute
Unified Planning Work Program
Urban Revitalization Development Grant
U.S. Department of Agriculture
U.S. Department of the Interior
U.S. Fish and Wildlife Service
Underground Storage Tanks
Volatile Organic Compound
Ware Adult Learning Center
Weatherization Assistance Program
Women-owned Business Enterprises
Western New England University
Water Quality Management Plan
Westfield River Watershed Association
Westfield River Wild & Scenic Advisory Committee
Water Supply Protection [District]
Westfield State University
Zoning Board of Adjustment (or Appeals)