Valley Venture Mentors Proves Action Gets Traction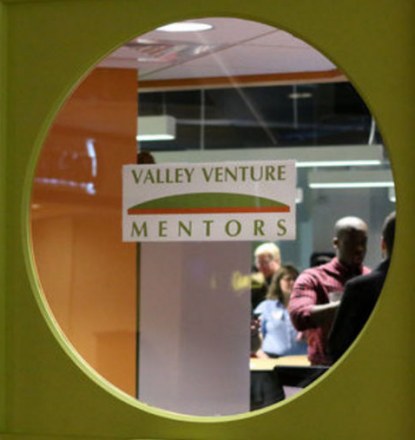 Guest authored by Thom Fox
Three years ago(ish), I walked into a conference room at Bulkley, Richardson and Gelinas for a Valley Venture Mentors Meeting.  I couldn't tell you how I wound-up there, but I'm glad I did.  Back then VVM (what the cool kids call it), consisted of 20 or so mentors helping early stage entrepreneurs grow their business.  The mentorship model hasn't changed much, but VVM has gone through an amazing transformation.
Valley Venture Mentors still holds meetings in Springfield, but out of their snazzy Accelerator space (we'll get to that in a moment.)  Each month, over 150 business leaders, executives, investors, and some downright interesting people gather to support amazing ideas.  I have seen entrepreneurs walk into VVM with little more than an concept and leave with a solid plan and important connections to make their dreams a reality.  I've also seen folks blow-up their venture.  The VVM Mentorship program is built to support the entrepreneur, meaning "Hey, don't kill yourself if this idea won't work."  Try, try again. 
The Accelerator is a different story; that's built for the venture. More than 120 business teams from five continents applied to participate in VVM's accelerator program, out of which 29 were accepted. The goal of the Accelerator is to accelerate business growth (pretty straight forward) and help entrepreneurs make valuable networking connections.  VVM staff developed comprehensive curriculum and put these entrepreneurs through the ringer. These businesses were together for four months enduring bootcamp-style programming which covered everything from pitching a venture to validating business assumptions.  And these sessions work wonders. I had the privilege of attending the final round of investor pitches for the 2015 Accelerator class and a banker in attendance marveled at their preparedness. "Some of these teams know their businesses better than customers who have been with me for 10 years." Wow! The Accelerator provides cash prizes as well; the twelve finalists split $282,500.  Not only that, but the cohort raised over $2-million in 'angel' investment and venture capital.  Double Wow!
The community has taken notice of VVM's success. MassMutual has put-up $6.5 million to cultivate local entrepreneurship.  Some of those funds support the Accelerator in Tower Square, and the build-out of the Springfield Innovation Center on Bridge Street. The Center will serve as VVM's  permanent home, and offer cooperative work-space and educational programming.  It will also house a cafe where professionals and entrepreneurs can hold meetings and host events. MassMutual also provided $5 million for the Springfield Venture Fund, a source of investment capital for new businesses willing to relocate to the city. 
What I truly appreciate about VVM is it's evolving. Their efforts exemplify the PVPC's goals outlined in the The 2015 - 2025 Plan for Progress. VVM doesn't subscribe to the mentality of "This is the way we've always done things."  Frankly, those ways have changed.  The practice of economic development is trending micro, and the seeds planted by VVM are a glimpse into the Pioneer Valley's future. 
Thom Fox is the founder of Thom Fox Business Advisory Services, a New England-based consultancy. As a strategic advisor, Thom helps business owners bridge the gap between hard-work and success. Thom also hosts The Engine airing on WHYN-AM, WHYN-FM and WRNX-FM.