Town of Monson Permitting Guide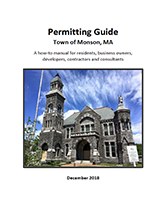 The Monson Permitting Guide provides an overview of the permit review process in the Town of Monson for a variety of different project types. You will find in this guide an organizational chart showing the different town departments and boards and their roles in the permit process, a quick reference chart for the types of permits that may be needed, flow charts of the various permitting processes; a list of Town departments and boards with contact information, office hours, and links to the forms administered by each department; and a list of fees.
Click here to view/download guide.