New 2015 Plan for Progress is Rolled Out Today, May 4, 2015!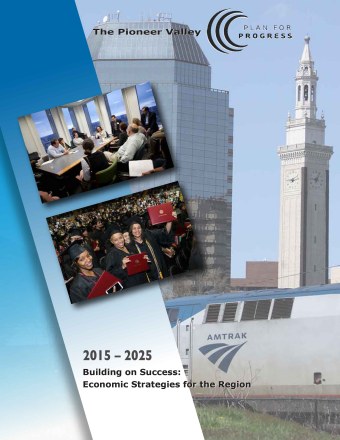 The new 2015 Plan for Progress is being rolled out today! The Plan is being highlighted in news and social media all day today and throughout the month of May.
The 2015 Plan for Progress calls for collaborative leadership to promote the region's talent development, business growth, sustainable infrastructure, and civic engagement. It builds on the region's many assets and accomplishments while simultaneously addressing the challenges, such as increasing the Pioneer Valley's supply of educated, skilled workers by 6%, or approximately 25,000 workers.
Today the Plan for Progress and an Executive Summary are available online and at the Pioneer Valley Planning Commission (PVPC) offices. Interviews and more information about the Plan are featured in the May 4th issue of BusinessWest magazine and The Republican/MassLive. Tonight a special segment of WGBY-TV's Connecting Point show at 7:30 p.m. will present regional leaders Tim Brennan, Executive Director of the Pioneer Valley Planning Commission; Jason Irizarry, Director of the UMass/Amherst Institute for Urban Education; and Sally Fuller, Project Director at the Davis Foundation, to discuss the new plan and its primary goal of Talent Development. Three additional Connecting Point segments during the month of May will feature other champions of the Plan for Progress and their unique programs and initiatives. After the shows are aired, they can be viewed online.
We need your involvement to help implement the region's Plan for Progress, and we will soon be inviting regional business and community leaders to come together to learn how the Plan can help further their business and economic development objectives . Watch for ongoing updates and opportunities to get involved at the Plan for Progress web page, PVPC's Facebook and LinkedIn sites, and on Twitter.
The Pioneer Valley Planning Commission and the Plan for Progress Coordinating Council are promoting the rollout, which is partly funded by the U.S. Economic Development Administration (EDA).