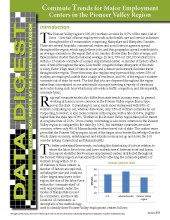 This data digest explores commute trends in the Pioneer Valley, including the distribution of jobs in relation to where the labor force lives, and how residents travel between work and home. This report identifies twelve major employment centers distributed throughout the region and analyzes the factors affecting the commute patterns of workers living within 10 to 45 minutes of these centers. A number of factors are explored, including the size and locations of the largest employers in the region; the size of the labor force within the 'commute-shed' of each employment center; the modes of transportation used by commuters; and the work locations of commuters.
Documents:
Commute Trends for Major Employment Centers in the Pioneer Valley Region
Data digest exploring commute trends around 10 major employment centers within the Pioneer Valley Region. Published in 2016.

Commute Trends Data Digest 2016
Regional Transportation Plan