Westfield Columbia Greenway and Southwick Rail Trail Survey of Trail Users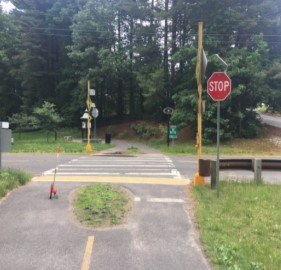 The Pioneer Valley Planning Commission is surveying trail users in cooperation with the Friends of the Columbia Greenway Rail Trail, the City of Westfield, Friends of the Southwick Rail Trail and the Southwick Park and Recreation Department. Signs and an online link for the survey are posted along the shared use paths.  The 20-question survey takes about 5 minutes to complete. The survey is active for ten days through October 27th. The data and information collected is confidential and not identifiable to the individual.
When people respond to the survey the information will be used to measure the health and economic impacts of the Columbia Greenway and Southwick Rail Trails and to improve the user's trail experience. The goal of the survey is to provide community leaders, trail planners, and advocates with an accurate picture of who uses trails and to  provide information on the benefits of trails, and recommendations for advancing design, policy, and programming initiatives.
For questions or more information contact Gary Roux, at the Pioneer Valley Planning Commission.
gmroux@pvpc.org
413-781-6045​