Voter Registration and Voter Turnout in the Pioneer Valley
Voter Registration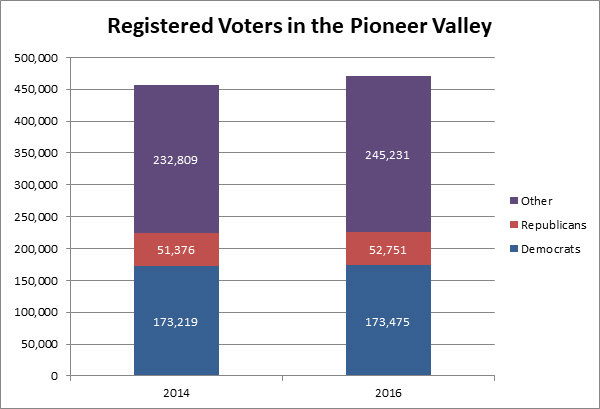 According to the Pew Research Center, voter enthusiasm is "at its highest level during any midterm in more than two decades."[1] The Pioneer Valley has always had a relatively high voter registration rate, with 85.3% of eligible Valley 
residents registered in 2016 compared to just over 70 % in Massachusetts and 71.2% the US at large. In Massachusetts, as across the nation, this rate varies depending on race. Across the commonwealth, 77.5% of White non-Hispanic citizens were registered to vote in 2016, 50.1% of Hispanic citizens, 72.4% of Black citizens, and 53.8% of Asian citizens[2]. 
Voter Turnout
But just because a person registers, doesn't mean they'll actually vote. Voter turnout, the rate at which registered voters actually cast ballots, tends to be pretty low during midterm elections. In the 2014 midterm election, only 47.9% of Pioneer Valley registered voters visited the polls. In 2016 this number shot up to 70%, likely due to the contentious presidential race.
How Well Does Your Community Turnout?
Check out the map and charts below to explore how your community stacks up in terms of voter turnout from the 2016 election.Then, make a difference in the next map and in your community by getting out to vote and bringing your friends and family! Polling places are required by law to be open from 7 a.m. until 8 p.m., though some towns will open as early as 5:45 a.m. for early morning voters. Any voter who is in line when polls close at 8 p.m. must be allowed to vote. So, get out there on November 6th and help boost our region's turnout rate while participating in some exciting political races!  The tool below is best viewed on a device larger than a smart phone. 
[1] http://www.people-press.org/2018/09/26/voter-enthusiasm-at-record-high-i...