Springfield Neighborhood Data Atlas Released!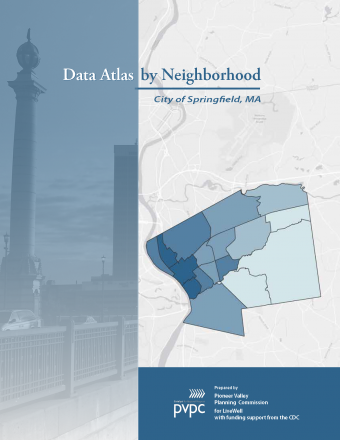 In 2012, the Pioneer Valley Planning Commission secured funding from the Centers for Disease Control and Prevention (CDC) to significantly expand the work of LiveWell Springfield, a community based coalition that includes over 20 organizations working in Springfield (www.livewellspringfield.org).   The coalition supports a grassroots movement towards health equity through improving access to healthy eating and active living opportunities. Great strides have been made in this effort and ongoing action is essential to continue the momentum.
The current work of LiveWell Springfield includes the Go Fresh Mobile Farmer's Market, catalyzing efforts to bring a grocery store to the Mason Square area of the city, expanding and publicizing rowing and biking opportunities on the Connecticut Riverwalk and Bikeway and at North Riverfront Park, and the development of a Complete Streets—Pedestrian and Bicycle plan for a more walkable/bikeable Springfield.
As part of PVPC's work on the LiveWell Springfield initiative, we have produced this Data Atlas in order to provide community based advocacy and service delivery organizations, residents, and city government with health, economic, and educational information on each of the city's 17 neighborhoods. Collectively, we seek to answer the question: how is Springfield doing?
Data is examined through long term trend comparisons to the region and state, as well as through neighborhood comparison maps. Published on 9/23/14, this is the first version of this report and may be modified slightly over time.
Interactive versions of the neighborhood maps are available for exploration through the LiveWell Springfield Map Gallery here.
Use these graphs and maps for your own grant applications and reports!
See .zip files below to download image files of all of the graphs and maps in this report and please feel free to use them in your own work. Credit may be given to PVPC for their creation. 
For questions about LiveWell Springfield, please contact Catherine Ratte.
For data specific questions, please contact Molly Goren-Watts.