The Solar Best Practices Guide is available!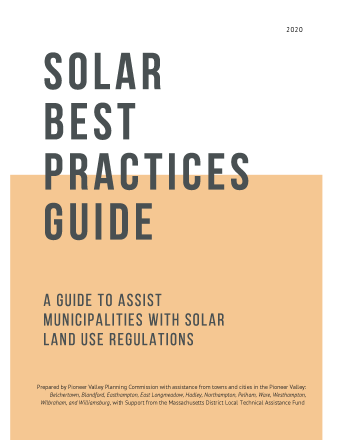 The SOLAR BEST PRACTICES GUIDE was a project document funded with support by the Massachusetts District Local Technical Assistance Fund.
This guide was prepared by the Pioneer Valley Planning Commission with assistance from towns and cities in the Pioneer Valley of Belchertown, Blandford, Easthampton, East Longmeadow, Hadley, Northampton, Pelham, Ware, Westhampton, Wilbraham, and Williamsburg, the University of Massachusetts Clean Energy Extension and State Representative Lindsay Sabadosa.
The intent of this guide is to assist communities with the regulation and development of Solar Photovoltaic Installations by providing standards for their placement, design, construction, operation, monitoring, modifications, and removal; to protect public health, safety or welfare in accordance with M.G.L. c. 40A, § 3; to protect and preserve farmland, forests, and open space as promoted by the Commonwealth of Massachusetts; to protect the scenic, natural, and historic resources; and to provide adequate financial assurance for the eventual decommissioning of such installations.
* Some content within this guide has been adapted from resources developed by the Massachusetts Department of Energy Resources, UMass Clean Energy Extension, the Massachusetts Citizen Planner Training Collaborative, and the Cape Cod Commission