MassSave Dehumidifier Recycling Program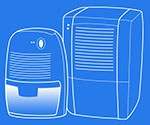 Dehumidifier Turn-In Events – Recycle with MassSave and get $30.00.
Eversource and National Grid are seeking to partner with interested communities to provide their residential customers with an opportunity to recycle their old, working dehumidifiers for free and receive $30. Dehumidifier energy consumption can rival that of a refrigerator because of their constant operation. Removing old, working dehumidifiers from circulation helps decrease household energy use, and a new, ENERGY STAR certified dehumidifier can save up to $175 in energy costs over the life of the unit. Eversource and National Grid have offered this service for the past two years through a statewide Mass Save initiative that has participated in 14 community events responsible for the recycling of 600 old units. Eversource and National Grid collaborate with interested communities' recycling and household hazardous waste collection events, where they bring a recycler to collect units, staff the event to assist with logistics, and advertise the offer to residents at no cost to the community. Communities interested in learning more about this program and how to offer it to their residents during spring or fall events can contact mark.michalski@cadmusgroup.com.