I-91 Viaduct Study Public Information Meeting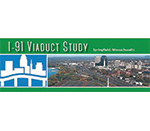 MassDOT is hosting the third and final public information meeting on the Interstate 91 (I-91) Viaduct Study. The I-91 Viaduct Study is a conceptual planning study to develop recommendations for a long-term vision for I-91. 
MassDOT initiated this study to identify existing issues and evaluate alternatives for improvements to the I-91 corridor from US-20/Plainfield Street to the Connecticut state line.
At this meeting, the project team will present an overview of the draft recommendations and the Draft Final Report. The public is encouraged to attend to learn more about the recommendations and provide feedback.
For more information, visit the study website:
www.mass.gov/massdot/I91ViaductStudy
This meeting is accessible to people with disabilities and those with limited English proficiency. Accessibility accommodations and language services will be provided free of charge, upon request, as available. Such services include documents in alternate formats, translated documents, assistive listening devices, and interpreters (including American Sign Language). For more information or to request reasonable accommodation and/or language services, please contact MassDOT's Director of Civil Rights by phone at (857) 368-8580, TTD/TTY at (857) 368-0603, fax (857) 368-0602 or by email to MASSDOT.CivilRights@dot.state.ma.us by September 5.
El Departamento de Transporte de Massachusetts (MassDOT) celebrará la tercera y última reunión de información pública acerca del Estudio Interstate 91 (I-91) Viaduct. El Estudio I-91 Viaduct es un estudio de planificación conceptual para elaborar recomendaciones para una visión de I-91 a largo plazo. MassDOT inició este estudio para identificar problemas actuales y evaluar alternativas al corredor de I-91 desde I-291 hasta la frontera con el estado de Connecticut.
En esta reunión, el equipo de proyecto presentará una visión general de las propuestas de recomendaciones y del proyecto de informe final. Se insta al público a que asista para que aprenda más sobre el estudio y proporcione sus comentarios.
Para más información, visite el sitio web del estudio:
www.mass.gov/massdot/I91ViaductStudy
Esta reunión es accesible para personas con incapacidades y aquéllos con dominio limitado del inglés. Se proveerán arreglos de accesibilidad y servicios lingüísticos libres de costo, a petición y según estén disponibles. Tales servicios incluyen documentos en formatos alternos, documentos traducidos, aparatos de asistencia auditiva e intérpretes (incluyendo de la Lengua de Signos Americana). Para más información o para pedir arreglos razonables y/o servicios lingüísticos, por favor contacte al Director de Derechos Civiles de MassDOT por teléfono al (857) 368-8580, TTD/TTY al (857) 368-0603, fax (857) 368-0602 o por correo electrónico a MASSDOT.CivilRights@dot.state.ma.us en o antes del 5 de septiembre.