Hatfield Hazard Mitigation Plan for Public Review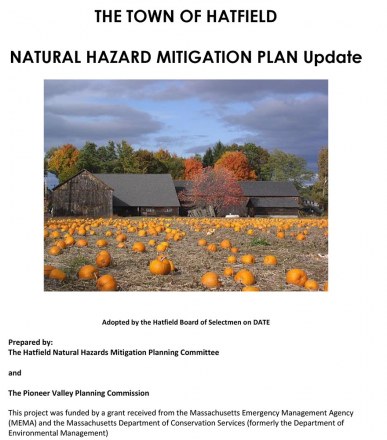 The Federal Emergency Management Agency (FEMA) and the Massachusetts Emergency Management Agency (MEMA) define Hazard Mitigation as any sustained action taken to reduce or eliminate long-term risk to people and property from natural hazards such as flooding, storms, high winds, hurricanes, wildfires, earthquakes, etc. Mitigation efforts undertaken by communities will help to minimize damages to buildings and infrastructure, such as water supplies, sewers, and utility transmission lines, as well as natural, cultural and historic resources.
The Town of Hatfield Natural Hazard Mitigation Plan Update 2021 is available for public review.
Please send comments to Mimi Kaplan at mkaplan@pvpc.org.
Click here to view/download report.