Re-Greening the "X" Session #2 - Preliminary Design Concepts
Monday, February 29, 2016 - 3:30pm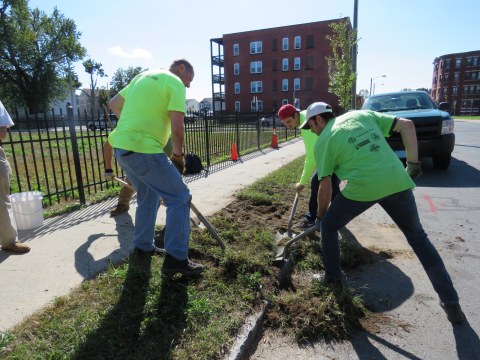 Learn MORE About Green Streets in Your Neighborhood
Monday, February 29th - 3:30 to 5:00 PM at Forest Park Branch Library, Community Room
Please plan to attend the second session on 'green streets', urban forestry and the development of regreening plans for
the "X" commercial district. Join our interactive session to learn more about the benefits urban trees have on the
community and the different components of green streets. This session will provide for an opportunity to learn more about
the value of trees in Springfield, and to review the work that the Conway School of Design team has completed on green
street improvements at the "X".
Plan to join us at this FREE event, enjoy some light refreshments and share in the celebration of greenspace in the
neighborhood. The design concepts that have been developed by the student team are outstanding, and your feedback
is critical to their finalization and value as a community asset for years to come. Your input is needed and welcomed.
You will also learn about how you can participate in helping to care and maintain for the trees in your yard,
neighborhoods, in our parks and along our streets. Also, details on how you can receive a new shade tree this spring will
be provided at the session. This is a great opportunity to help play a role in regreening the city… one tree at a time.
• Sign-up for a Free Tree for your yard
• Receive a 'Tree Owners Manual'
• Learn about the new Forest Park Arboretum
For more information, please visit www.regreenspringfield.org/greenstreets​