Thursday, February 11, 2016 - 4:30pm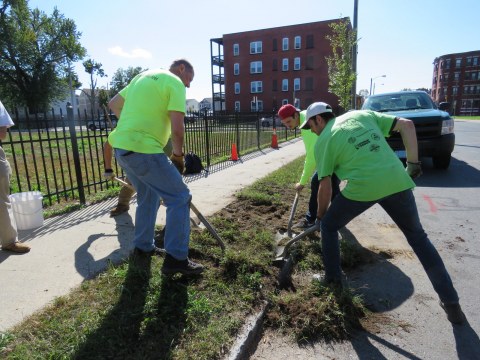 A "Green Streets" Design Workshop and Informational Session related to Regreening Springfield's 'X' commercial district, will be held Thursday, February 11th from 4:30 - 6:00 PM, at the Forest Park Library Community Room.  The session is one component of an ongoing effort by the Pioneer Valley Planning Commission (PVPC) to bring awareness of the importance of tree planting and maintenance and green streets in the urban environment to community residents in the region.  A green street is a natural stormwater management approach that uses trees, vegetation and soil to slow, filter, and cleanse stormwater from streets. Traditional stormwater management directs runoff into pipes. A green street manages stormwater at its source, where rain falls. Greening our streets can help to reduce water pollution to our rivers and lakes, can help improve air quality, and can reduce heating and cooling costs in our homes.
This workshop will outline a work being undertaken by the Conway School of Design to develop landscape design plans for the installation of tree box filters and other 'green street' components in the X neighborhood, and to develop recommendations that will be shared with the City's Planning and Engineering Departments, as they advance possible roadway improvements at the X.  Regreen Springfield is working with the PVPC, the Conway School of Design, the Springfield Water and Sewer Commission and the City of Springfield on delivery of the workshop session.
During the 90-minute workshop, a public presentation outlining the scope of the project will be delivered by the Conway School of Design project team and neighborhood input and participation in the process will be solicited. An overview of the function and value of urban trees will also be presented by Regreen Springfield. Finally, a short overview of this project, which is part of a region-wide effort being undertaken by the Pioneer Valley Planning Commission will be included.  The workshop will be interactive in nature and will include extensive attendee participation.
AGENDA
4:15 - 4:30 /      Arrival
4:30 - 4:40 /      Welcome
Jaimye Bartak, Senior Planner, Pioneer Valley Planning Commission
Matthew Sokop, City Engineer, City of Springfield  Department of Public Works
4:40 - 5:20 /      Urban Tree Planting Presentation
David Bloniarz, Director, ReGreen Springfield
5:20 - 5:30 /      Workshop Introduction  
Eric DePalo and Breyonne Golding, Conway School of Landscape Design
5:30 - 5:50 /      Break-Out Activity
Greening the X: Mapping Exercises 
5:50 - 5:58 /      Group Discussion
Report on activity findings and feedback period
5:58 - 6:00 /      Closing  
(Photo courtesy of ReGreen Springfield)