Holyoke Urban Tree Planting Public Workshop
Monday, January 30, 2017 - 6:00pm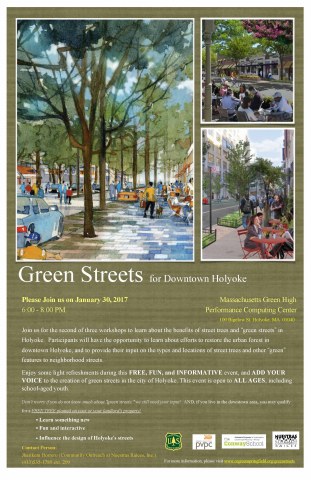 Please Join us on January 30, 2017, 6:00 - 8:00 PM
Massachusetts Green High Performance Computing Center, 100 Bigelow Street, Holyoke
Join us for the second of three workshops to learn about the benefits of street trees and "green streets" in Holyoke.  Participants will have the opportunity to learn about efforts to restore the urban forest in downtown Holyoke, and to provide their input on the types and locations of street trees and other "green" features to neighborhood streets.
Enjoy some light refreshments during this FREE, FUN, and INFORMATIVE event, and ADD YOUR VOICE to the creation of green streets in the city of Holyoke. This event is open to ALL AGES, including school-aged youth.
Don't worry if you do not know much about "green streets," we still need your input!  AND, if you live in the downtown area, you may qualify for a FREE TREE planted on your or your landlord's property!