Hilltown Collaborative OPEN HOUSE
Tuesday, November 29, 2016 - 11:00am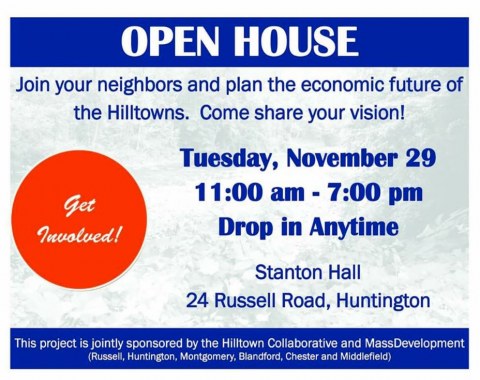 The Hilltown Collaborative, which is comprised of the communities of Russell, Huntington, Montgomery, Blandford, Chester and Middlefield, is preparing an Economic Development Strategy that will outline recommendations to increase tourism and business development in the six towns. To kick-off the planning process, the Hilltown Collaborative is hosting a community open house on Tuesday, November 29, in Stanton Hall located at 24 Russell Road in Huntington. 
Community members are encouraged to drop by the open house anytime between 11 a.m. and 7 p.m. to contribute ideas for the strategy. The open house will feature a series of interactive stations set up throughout Stanton Hall where community members can provide written comments and share ideas. The stations will include a series of questions designed to identify a vision for the Hilltowns, as well as community strengths and challenges; a map illustrating current tourism assets that people can mark up; and, boards featuring photos of economic development opportunity areas that ask participants what they would like to see happen at a particular vacant or underutilized site.
Representatives from the Pioneer Valley Planning Commission and Elan Planning and Design, the firm that is working with the Hilltown Collaborative to develop the strategy, will be circulating the room if participants want to discuss a particular topic or idea.