Hampden County Public Health Improvement Forum
Thursday, November 13, 2014 - 8:30am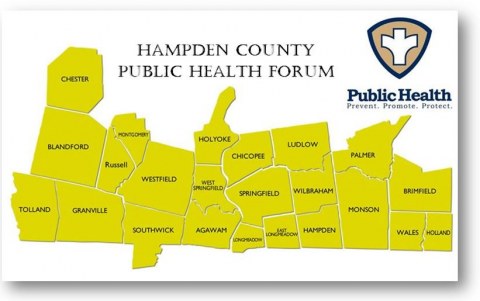 SAVE THE DATE - November 13, 2014
This forum brings together public, private, local, regional and state officials to shed light on the issues that contribute to Hampden County's poor health ranking. It will provide an opportunity for key decision makers and stakeholders to understand the economic costs incurred as a result of our county's poor health, while also allowing us to launch the process of strategizing a plan to improve our health outcomes. 
According to the Robert Wood Johnson Foundation 'County Health Rankings Annual Report', Hampden County consistently ranks the lowest in the Commonwealth, with respect to health.  This includes having the highest rates of tobacco smoking, adult obesity, excessive drinking, motor vehicle crash fatalities, sexually transmitted infections, and teen pregnancy - all of which are identified by the Centers for Disease Control and Prevention as 'Winnable Battles'.
This event will take place on November 13, 2014 at 8:30am to 3:30pm at  the Kittredge Center, Holyoke Community College - 303 Homestead Avenue, Holyoke, MA.  
Any questions, contact PVPC's Municipal Services Coordinator Joshua A. Garcia at (413) 781-6045 or jgarcia@pvpc.org. 
More information and to REGISTER, please visit www.pvpc.org/publichealthforum.
This event was planned/organized in partnership with the Western MA Office of the MA Department of Public Health as well as the following public health professionals and elected officials of the region:
Bettye Anderson-Frederic - Deputy Director of Department of Health and Human Services, Springfield 
Helen Arnold RN, MS, Director of Community Benefit and Oncology - Holyoke Medical Center
Jessica Collins, Director of Special Initiatives, PHC Baystate Health
Soloe Dennis - Western Mass Regional Director of Public Health, DPH
Jeanne Galloway, Director of Public Health, West Springfield
Joshua A. Garcia - Municipal Services Coordinator, PVPC
Wanda L. Givens - Director, Mason Square Health Task Force
Angela Kramer, RN - Shared Public Health Nurse for Hampden County local municipalities
Nikki Nixon - HCHC Emergency Preparedness Coordinator , PVPC
Olivia Peters, RN - Western Region Coordinator - Refugee and Immigrant Health Program, Dept. of Public Health Western Regional Health Office
Catherine Ratte - Principal Planner, PVPC
Dora Robinson, Executive Director of United Way Pioneer Valley
Frank Robinson, PhD, Executive Director - Partners for a Healthier Community, Inc
Risa Silverman - Office of Public Health Practice & Outreach & Adjunct Faculty, Division of Community Health Studies School of Public Health and Health Sciences, UMASS
Aaron Vega - State Representative of Fifth Hampden District