Day Brook Green Infrastructure Workshop and Mural Celebration
Saturday, June 24, 2017 - 1:00pm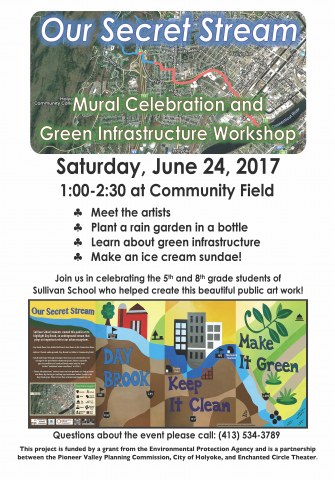 Come learn about Day Brook, green infrastructure and celebrate the new mural in Community Field!
June 24, 2017 1-2:30 PM, Community Field Park, Holyoke
A new public mural celebrating Day Brook in Holyoke created by students at Sullivan Elementary School will be unveiled at a public workshop at Community Field! Meet some of the young artists, and also learn about the "secret stream" Day Brook and its role in Holyoke's urban ecosystem and the city's combined sewer overflow problem. Participate in hands-on & family-friendly activities such as a CSO model demonstration, creating your own rain gauge, planting a mini rain garden in a bottle, and making your own ice cream sundae!