Community Innovation Challenge (CIC) Grant Information Session
Tuesday, August 26, 2014 - 10:00am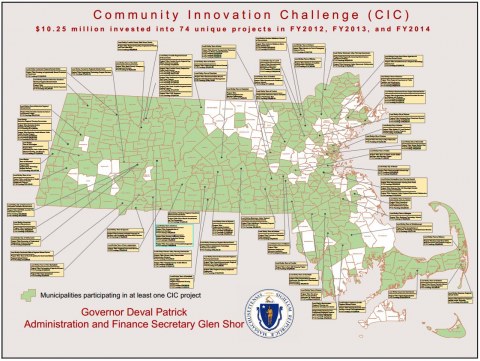 The Patrick Administration had recently announced up to $3million in funding for a fourth round of Community Innovation Challenge (CIC) Grant funds.
The Pioneer Valley Planning Commission (PVPC) is hosting an information session on the FY2015 CIC grant program on Tuesday August 26 at 10am.. CIC Grant Program Manager Tim Dodd from the MA Executive Office of Administration & Finance, will be leading the session.  This information session will take place at the PVPC located at 60 Congress Street, Springfield, MA 01104 on the 2nd Floor, Large Conference Room.  Municipalities of the Pioneer Valley region that seek information about the CIC Grant program and its process are welcome to attend. 
For more information on this event, contact PVPC's Municipal Services Coordinator Joshua A. Garcia at 413.781.6045 - jgarcia@pvpc.org.  
For more information about the CIC Grant opportunity, visit the CIC program website at www.mass.gov/ANF/CIC.