Chicopee Urban Tree Planting Public Workshop
Wednesday, January 25, 2017 - 6:00pm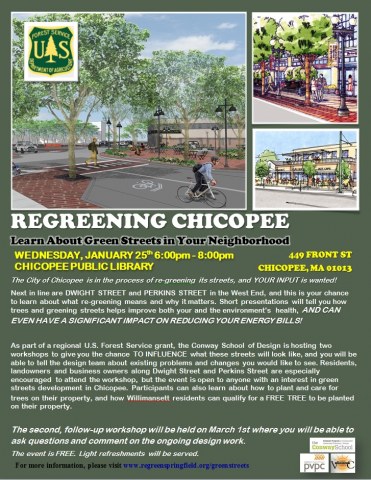 RE-GREENING CHICOPEE:  Learn About Green Streets in Your Neighborhood!
WEDNESDAY, JANUARY 25th 6:00PM—8:00PM 
449 FRONT ST, CHICOPEE PUBLIC LIBRARY, CHICOPEE, MA 01013
The City of Chicopee is in the process of re-greening its streets, and YOUR INPUT is wanted! 
Next in line are DWIGHT STREET and PERKINS STREET in the West End, and this is your chance to learn about what re-greening means and why it matters. Short presentations will tell you how trees and greening streets helps improve both your and the environment's health, and can even have a significant impact on reducing your energy bills!  
As part of a regional U.S. Forest Service grant, the Conway School of Design is hosting two workshops to give you the chance TO INFLUENCE what these streets will look like, and you will be able to tell the design team about existing problems and changes you would like to see. Residents, landowners and business owners along Dwight Street and Perkins Street are especially encouraged to attend the workshop, but the event is open to anyone with an interest in green streets development in Chicopee. Participants can also learn about how to plant and care for trees on their property, and how Willimansett residents can qualify for a FREE TREE to be planted on their property.
The second, follow-up workshop will be held on March 1st where you will be able to ask questions and comment on the ongoing design work. 
The event is FREE. Light refreshments will be served.