Town of Hampden Open Space and Recreation Plan Update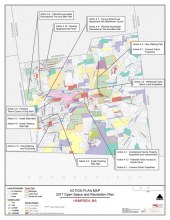 The Town of Hampden's Open Space and Recreation Plan was completed to help the Town meet the important needs of the citizens regarding open space and recreation. Plan goals include the protection of water resources, the preservation of agricultural and forested land; the maintenance and historic value of the Scantic River and the Town Center; the enhancement of recreational opportunities for residents of all ages, interests, and abilities; and the protection of mountain ridges from unsuitable development.
The 2017 plan update was produced by the Town, along with the Pioneer Valley Planning Commission, with funding provided by the District Local Technical Assistance program. The plan was approved by the Massachusetts Division of Conservation Services in early 2018.