WWLP: Hampden County healthcare community meets to discuss poor ranking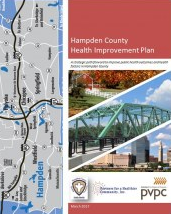 By Matt Carron
Hampden County is getting a failing grade when it comes to public health.
The Robert Wood Johnson Foundation ranked Hampden County 14 out of 14 counties.
Hampden County is made up of 23 communities. The report found high unemployment and poverty, a rapidly aging population. Friday's meeting in West Springfield brought together area healthcare professionals. It was meant to identify the problems and come up with solutions.
"Obviously in Massachusetts we are great in that we have 100% access to health insurance. But still, there are people who are unable to get appointments with doctors even though they have the means to pay for it," said Catherine Ratte of the Pioneer Valley Planning Commission.
***
"At one time I was part of a program that you could call a nurse and tell about what your situation was. She would evaluate that and she would be able to evaluate that and get you some type of specific help," said Charlie Knight of the Springfield Armory Quadrangle Civic Association.
The study examined several broad health categories. The goal is to have Hampden County improve their ranking to at least 10th by the year 2027.