Westfield News: Planners tour Hilltowns for Community Compact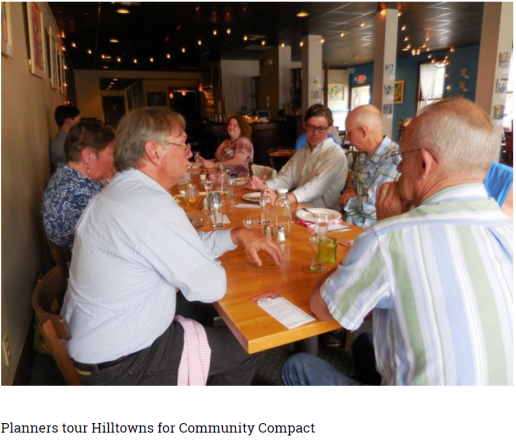 July 15, 2016
By: Amy Porter
HUNTINGTON – Representatives from MassDevelopment, Elan Planning/Design/Landscape Architecture and the Pioneer Valley Planning Commission (PVPC) joined Gateway Hilltown representatives Thursday to move forward on the Community Compact agreements that were signed by the towns in May.
Each of the six towns has pledged to work together to explore sharing services and to bring economic revitalization to the area. Toward that end, the town governments have assigned two members of their Select Boards to the newly named Hilltown Collaborative effort.
MassDevelopment has been tasked to administer a $40,000 grant to the Hilltown Collaborative for the economic development piece, and will work with Elan, out of Saratoga Springs. PVPC will be the administrative liaison and provide technical assistance to help the towns explore shared services.