South Hadley Public Forum and Visioning Session Scheduled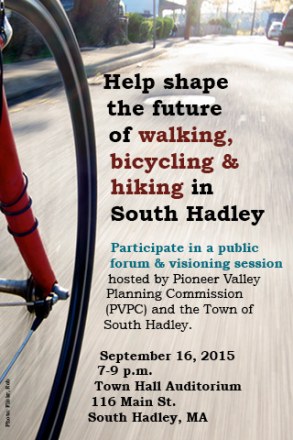 The Pioneer Valley Planning Commission and the Town of South Hadley will hold a public forum and visioning session Wednesday, September 16, 7:00 p.m. to 9:00 p.m. at the South Hadley Town Hall Auditorium, 116 Main Street.
Citizens will learn about work to date on a comprehensive plan for walking/bicycle routes and hiking trails in South Hadley. Participants will be asked to provide feedback about walking and biking in the town, including which improvements should have the highest priority. PVPC will share results from a recently completed public survey about walking and biking, along with its initial investigation into potential improvements. Forum attendees will have ample opportunities to contribute their ideas through interactive exercises.
Ultimately, the plan will shape long-term improvements to sidewalks, bike routes, bike paths, and hiking trails.
For more information, please contact PVPC's Dillon Sussman at dsussman@pvpc.org or (413) 781-6045.