MassLive: Citizen scientists monitor water safety at popular boating and fishing sites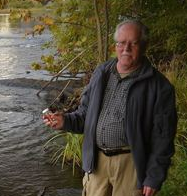 By Mary Serreze
CHICOPEE — Ludlow resident Tom Rouleau clambered down the north bank of the Chicopee River just upstream of the Davitt Bridge Wednesday with a small, plastic bottle in hand.
"Be careful," he said. "It's steep."
The retired environmental engineer took stock of the early morning sun, pointed to a white egret outlined against a brick factory building, filled the bottle with water, and fastened the cap.
Before long, he was back behind the wheel of his Honda CRV and headed to the Medina Street Boat Ramp, where he would repeat the process. Roleau filled out field reports, placed the samples on ice, and drove his cooler and paperwork to the Pioneer Valley Planning Commission in Springfield.