LOCAL PLANNING PANEL CONVENES TO DISCUSS NEW REPORT ON TRANSFORMATIVE DEVELOPMENT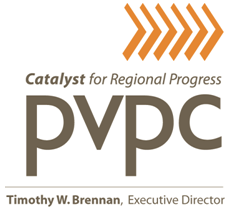 FOR IMMEDIATE RELEASE
July 1, 2017
CONTACT
Pat Beaudry, PVPC Manager of Communications & Public Engagement at pbeaudry@pvpc.org
LOCAL PLANNING PANEL CONVENES TO DISCUSS NEW REPORT ON TRANSFORMATIVE DEVELOPMENT
Gateway City Leaders Discuss Shift in Thinking around Economic Development
SPRINGFIELD---A panel of economic development leaders representing the Pioneer Valley's urban core of Springfield, Chicopee, Westfield and Holyoke came together Thursday morning to discuss a recent report issued by MassINC's Gateway City Innovation Institute on transformative development.
The report - Rebuilding Renewal: An Analysis of State Investment in Gateway Cities and a Work Plan for Delivering Transformative Development – was co-authored by Northampton resident Dan Hodge, principal of Hodge Economic Consulting, who presented its findings to a packed room at Make-It Springfield on Worthington Street.
The former vacant storefront recently converted into a pop-up makerspace by MassDevelopment and the UMASS Amherst Extension School proved a very relevant venue for the event as it is in part a result of MassDevelopment's Transformative Development Initiative - a program praised in the report.
"Despite increased levels of investment and programs aimed at Gateway Cities like Springfield and Holyoke, we are still not seeing a recovery in real estate values and the number of building permits being pulled in those communities to their pre-recession levels," said Hodge. "The findings of our report suggest that larger-scale investments, closely aligned with local economic development plans are still needed to positively move the needle in our mid-sized, former industrial cities here in Massachusetts."
Panelists included Samalid Hogan, Project Manager for the Holyoke Innovation District; Laura Masulis, MassDevelopment's Tranformative Development Initiative Fellow in the City of Springfield; Peter Miller, Westfield's Director of Community Development and Planning; and Michael Vedovelli, Chicopee's Director of Community and Economic Development.
"Our urban centers have transformed over the past few decades and we as government leaders have to look at ways where public-private partnerships can spur new investments and opportunities," said Vedovelli.
MassINC and their Gateway City Innovation Institute first rolled out the report in May in Lowell – another gateway city whose Hamilton Canal District is highlighted in Rebuilding Renewal as a successful example of transformative development in action. The think tank partnered with the Pioneer Valley Planning Commission, Common Capital and Hodge Economic Consulting to host the regional panel discussion here in Western Massachusetts.  
###