Jacob Bojito: My Summer Internship at the Planning Commission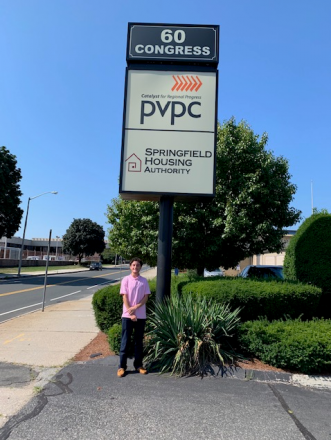 A couple months back I visited the Pioneer Valley Planning Commission (PVPC) - the state-designated planning agency for the 43 cities and towns of Hampden and Hampshire Counties - for the first time at a Community Connections Dinner. Catherine Ratte', the Co-Manager of PVPC's Land Use & Environment Section and eventually my internship supervisor, hosted the community connections dinner showing us around the facility and presenting PVPC as a potential summer internship to me and my fellow Peer Health Advocates (PHA) from the Martin Luther King Jr. Family Services, who are high school students that serve as community health workers in Springfield.  While other PHA's chose Mercy Medical Center for their summer internship, I wanted to know what PVPC was all about and in my first week of my internship, I did just that. 
The first day of my internship, Catherine showed me the designated office space that she had for me. We then met in one of the conference rooms in PVPC and we began talking about what my schedule looks like, what topics I liked and didn't like on my schedule, and overall setting up the blueprints for my internship. Catherine had assigned me to work with several of her colleagues at PVPC throughout the duration of my internship. My first assignments were to read through several documents to develop a basic understanding of Planning and Environmental Health, alongside reaching out to the planners I had been assigned to work with so that I could design my internship schedule.
One assignment I had that would stay constant throughout my internship was doing a daily check-up on the ValleyBike Share program stations throughout the six municipalities in which they are located and then present the data to the ValleyBike Steering Committee. I had other assignments that involved me learning how to use Excel software. I had to look up legislation that was being assessed in the State House and categorize those bills by either the Senate or the House of Representatives, write down the names of the petitioners that support the bill, and then write the joint committee that the bill was referred to. I also attended meetings with many different planners which gave me knowledge about everything that has to do with planning. 
Through attending meetings I was able to do a lot of networking. During my internship I've met with Massachusetts Secretary of Energy and Environmental Affairs Kathleen Theoharides, Northampton's State Representative Lindsay Sabadosa, and Holyoke's Planning Director Marcos Marrero, as well as mayors from neighboring towns and even exchanged contact information with my own State Representative, Carlos Gonzalez. I was also able to build a strong connection with Catherine and the other employees at PVPC. Networking was by far the most important thing I could do because now I have built great relationships with professional people. 
As someone who doesn't know the career path that I'd like to follow, every bit of experience that I gather is useful and can benefit me in the future. PVPC has helped me network, learn computer software, and develop a general understanding of planning. This has helped me gain an interest in a potential future in this field. It also has heightened my interest in politics. This has always been something of interest to me because I have always thought of people in power, and what they are doing right and wrong. This internship has introduced me to public officials, and taught me useful information on politics. PVPC was a great experience and I'm glad that I chose to intern here over the summer!