Gazette: Zero-waste goal topic of forums in Amherst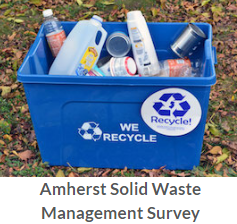 By Scott Merzbach
AMHERST – Two forums will be held this month on reducing the amount of trash produced by residents and businesses in Amherst, and seeking reaction to a solid-waste master plan aimed at moving the town toward becoming a zero-waste community.
The forums are scheduled for 7 p.m. Sept. 21 and 27 at the Unitarian Meetinghouse, 121 North Pleasant St., and are a collaboration between the town's Recycling and Refuse Management Committee and the Pioneer Valley Planning Commission. 
Patrick Beaudry, manager of communications and public engagement for the regional commission in Springfield, said the agency has money available for doing outreach on behalf of the Amherst committee.
The proposals to get Amherst to zero waste would be part of the plan that will be brought to the Select Board for adoption.
Click here to read the full Gazette story on Zero Waste Amherst