FUNDING APPROVED FOR REGIONAL BIKE SHARING PROGRAM IN THE PIONEER VALLEY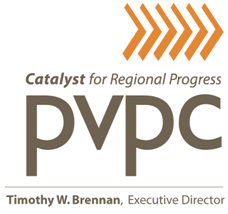 FOR IMMEDIATE RELEASE
August 5, 2016
CONTACT
Patrick Beaudry, PVPC (413) 210-4658 or PBeaudry@pvpc.org
FUNDING APPROVED FOR REGIONAL BIKE SHARING PROGRAM IN THE PIONEER VALLEY
SPRINGFIELD --- Last Monday, the region's Metropolitan Planning Organization (MPO) - the body which approves federally funded transportation projects in Hampshire and Hampden counties - voted final approval of a Transportation Improvement Plan, which included $1,171,971 in funding in FY17 for ValleyBike - a regional Bike Share collaborative program between the Pioneer Valley Planning Commission, Springfield, Holyoke, Amherst, Northampton, and the University of Massachusetts-Amherst.
The vote means that there is now funding programmed for Bike Share that could be available as soon as October 1, 2016. ValleyBike has a current target launch date of Summer, 2017.
The lead community for ValleyBike will be the City of Northampton. Wayne Feiden, Northampton's Director of Planning & Sustainability noted, "bike share will provide more options for our residents, workers, and visitors, whether it is extending transit an extra mile or providing a wider radius for travel without needing a car.  Bike share, along with walking and bicycle facilities, provide the least expensive travel option for users and taxpayers and one of the most effective ways to improve public health."
The Pioneer Valley Planning Commission will coordinate the project on behalf of participating communities.  Christopher Curtis, PVPC's Chief Planner, said that "this is an exciting opportunity for our region to launch, for the first time, a pilot scale regional bike share system that will benefit both our residents and visitors alike".
"The City of Springfield is very excited about the opportunity to partner with other communities in the Pioneer Valley to introduce a regional bike share system.  ValleyBike has the potential to compliment the soon to be opened Union Station, the region's largest multi-modal transportation center," said Kevin Kennedy, Springfield's Chief Development Officer.  "With millions of people projected to travel through Union Station, a bike share system connecting the numerous other economic development initiatives in our urban core really makes sense." 
"ValleyBike will allow students and employees the opportunity to easily connect with the rest of the Pioneer Valley", says Ezra Small, Campus Sustainability Manager for UMass Amherst. "The program will encourage alternative transportation, compliment the services provided by UMass Transit that operates the Pioneer Valley Transit Authority's buses for the northern tier of the region, and help to reduce emissions. I'm also looking forward to seeing the bike share in action as it will allow students and faculty to study the impacts and behavioral changes from this unique transportation program."  
"ValleyBike is a very entrepreneurial project and will be a great complement to the urban core development currently happening throughout our communities in Western Mass" said Marcos Marrero, Holyoke's Director of Planning & Economic Development. "This will complement our efforts around walkability and complete streets, connection through rail transit and providing Center City residents and visitors an efficient and low-cost method of travel."
"We are pleased that the Valley Bike Share program will receive funding," said Interim Town Manager David Ziomek. "Amherst is unique in that it is home to three institutions of higher education with a large number of students in a relatively small geographic area.  We believe bike share will help to relieve traffic congestion and serve the students, the broader downtown business community and community at large."
ValleyBike will join the ranks of similar programs in larger metropolises such as Boston's Hubway, Washington DC's Capital Bikeshare, and New York City's Citi Bike programs, among others. 
The model has provided residents with the opportunity to travel within their region without contributing to greenhouse gas emissions, while also engaging in a more healthy, active lifestyle.
Bike Share programs are also particularly popular among young professionals, a demographic critical to the Pioneer Valley's economic future.
Next steps will include securing a contract from the Massachusetts Department of Transportation (MassDOT) for the project.
If the initial launch of ValleyBike Share is successful, there are plans to expand the number of stations in the region, and add communities, including the Town of South Hadley.
 "The Town of South Hadley thanks the MPO for recognizing the value of the Valley Bike Share Program," said South Hadley Town Administrator Michael Sullivan. "South Hadley, as a more recent advocate for this program, congratulates the program leaders, the Cities of Holyoke, Northampton and Springfield, the Town of Amherst and UMass for their critical and long standing participation in creating the skeletal structure with the invaluable  guidance of the Pioneer Valley Planning Commission for this cutting edge transportation initiative." 
The cost to operate ValleyBike will also be offset by local corporate sponsors, with several interested parties already in talks with the Pioneer Valley Planning Commission.
###