Daily Hampshire Gazette: Riders troubled by PVTA's proposed service reductions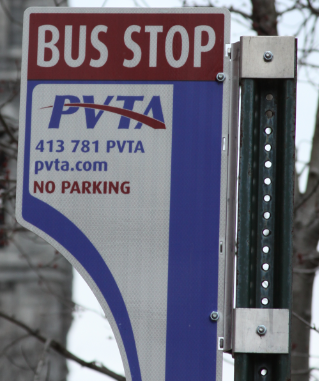 By Rebecca Mullen
In recent public hearings, college students and staff, commuters and others are presenting a united front against proposed cuts to Pioneer Valley Transit Authority bus service.
Anxious riders turned out in droves the last two weeks to object to the bus company's plans to reduce or eliminate 16 of its 63 routes.
Mount Holyoke College employee Natasha Rubanova commutes from the college in South Hadley to her home in Northampton on the 39 route. With the proposed elimination of the bus, she says she will have no way to get to work.
"I planned my life around this route," she said at a recent hearing in South Hadley. "If these routes are eliminated I will suffer significant financial consequences."
***
Decreased bus service is not just an inconvenience. For many in the Valley, it's the only way to get around.
In compliance with the 1964 Civil Rights Act, the PVTA is required to perform a Title VI equity analysis to ensure that the route changes would not discriminate against any group based upon any minority status.
According to the Pioneer Valley Planning Commission, 62 percent of PVTA riders are nonwhite and 55 percent are considered low-income, including students. Because of these demographic facts, any change will disproportionately impact people of color and those who are low-income, according to Sheehan.
If all of the proposed changes go through, about 400 riders will lose almost all of their existing service and 500 will lose express service like the M40, says David Elvin, principal planner at the PVPC.
"This is really not an exercise we enjoy," Elvin said Wednesday. "We serve people who have no other way to make their trips."
Public comments on the route changes will be accepted until Tuesday and can be made via email at comments@pvta.com or by leaving a 3-minute phone message at (413) 732-6248 x 235.