Daily Hampshire Gazette: Belchertown officials targeting stormwater pollution at Arcadia Lake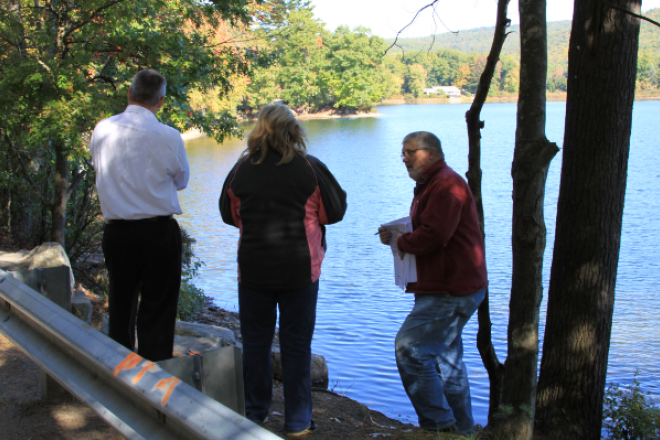 By Emily Cutts
BELCHERTOWN – Local officials are finalizing plans to help keep polluted stormwater out of Arcadia Lake.
The planned project focuses on Federal Street which runs along the edge of Arcadia Lake. The problem? Stormwater flows directly from the roadway into the lake, according to Patty Gambarini, principal environmental planner with the Pioneer Valley Planning Commission in Springfield. 
"The goal is really to keep pollutants out of the lake," said Steve Williams, director of Belchertown's Department of Public Works. "We've done a lot over the years to try and protect that resource in town because it is very valuable to us."
Work will address three points of stormwater discharge, according to Williams.
***
A water quality study of the Arcadia Lake done in 2014 found the waterbody to be relatively clean, according to the Pioneer Valley Planning Commission. 
"It is important to do what we can to protect the lake's water quality going forward and MassDEP fortunately recognizes this through the series of grant they have provided for the lakes," Belchertown Conservation Agent LeeAnne Connolly stated in a news release. 
The current timeline is to put the project out to bid over the winter with construction starting in the spring, according to Gambarini. The nearly $70,000 project is funded through a 60 percent grant from the Massachusetts Department of Environmental Protection and a 40 percent local match using funds from the budgets of the Lakes Association and Department of Public Works.