Come to the Walk Audit for the Pleasant St. HIA!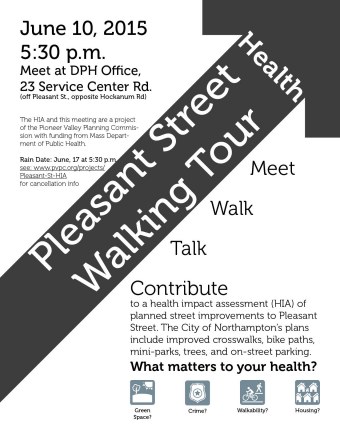 Please come to a health-focused walk audit of Pleasant Street in Northampton on June 10 at 5:30 p.m. Join your neighbors to walk, talk, and share how Pleasant Street affects your health.
This walking conversation is part of a Health Impact Assessment (HIA) of potential street improvements to Pleasant Street. PVPC is working with the City of Northampton, MAPC, and Mass Department of Public Health to evaluate the potential health impacts of the proposed design which includes more visible crosswalks, new trees, a bike lane, and additional on-street parking. The HIA will help the city prioritize which changes will most benefit the health of people who live, work, play, and travel on Pleasant St. 
Your input is essential to steering the direction of the project and providing local knowledge of how Pleasant Street fits into peoples' daily lives. What matters to your health?
What: Pleasant Street Walking Tour
When: June 10, 5:30 p.m. 
Where: meet at DPH Office Parking Lot, 23 Service Center Road, Northampton
Rain Date: June 17 at 5:30. See this webpage for cancelation info.
Everyone is welcome!