Bay State Bike Week Scheduled for May 9-17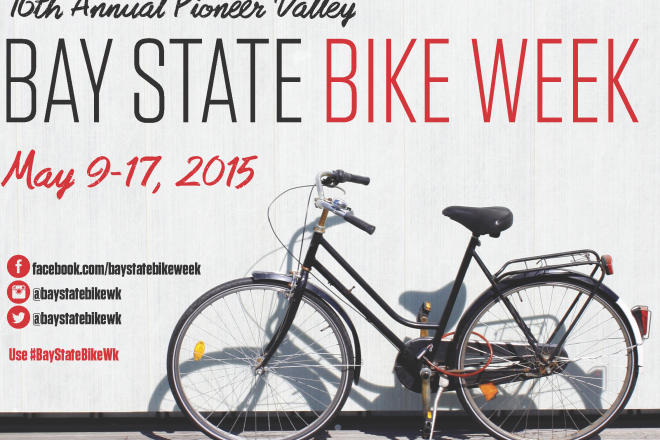 Pioneer Valley residents will have the opportunity to celebrate bicycling during Bay State Bike Week, May 9-17. This collaborative effort of the Pioneer Valley Planning Commission, MassBike, MassDOT, MassRides, community volunteers, businesses, and civic organizations encourages residents to commute by bicycle to work, to school, and for short trips in their communities.
More than 30 events—commuter breakfasts, film screenings, child safety rodeos, family rides, maintenance workshops, and more—have been designed to appeal to people of all ages and interests, from recreational riders to cycling enthusiasts.
This year marks the 16th anniversary of Bike Week in the Pioneer Valley. Over 1,000 participants are expected to participate in communities throughout the region, including Agawam, Amherst, Chicopee, Easthampton,  Greenfield, Hadley, Holyoke, Northampton, South Hadley, Springfield, West Springfield, and Westfield.
Here's a sample of Bike Week community activities (for a complete calendar, go to www.baystatebikeweek.org):
Westfield – Bike Ride with Mayor Knapik
Monday, May 11, 8:30 a.m.
City Hall, 59 Court Street
Join the Mayor of Westfield on this bike ride through the city, leaving from City Hall.
Amherst – Free International Bicycle FilmFest
Tuesday, May 12, 5:00 p.m. – 9:00 p.m. 
Amherst Town Hall, Town Room
Films about bicycling from various countries of the world will be shown. At 5:30 p.m., the Arthur Swift Memorial Bike Commuter Advocate Award will be presented to Dr. Robert Kusner.
Northampton – Commuter Breakfast
Wednesday, May 13, 7:00 a.m. – 10:00 a.m.
County Courthouse Lawn, Corner of King Street and Route 9
Come join in this commuter breakfast with fellow cyclists and get some free food, too.
Holyoke - Bike to Work Breakfast
Thursday, May 15, 7:00 a.m. – 10:00 a.m.
Highland Hardware, 917 Hampden Street
Come join in this commuter breakfast with fellow cyclists and get some free food, too.
Greenfield – Commuter Lunch
Friday, May 15, 12:00 p.m. – 2:00 p.m. 
Bicycle World, 104 Federal Street
Ride your bike during the lunch hour for free food at Bicycle World.
Springfield – Family Fun Festival
Saturday, May 16, 11:00 a.m. – 4:00 p.m.
North Riverfront Park, 121 West Street
This festive event will include something for everyone: face painting, rowing and paddling instructions, a bicycle maintenance workshop, rides along the Connecticut River Walk, and festive foods.
South Hadley – Group Road Ride
Sunday, May 17, 1:00 p.m.
This 5-to-7 mile ride will start at McCray's Farm.
Bay State Bike Week in the Pioneer Valley is a collaboration of the Pioneer Valley Planning Commission, the Massachusetts Department of Transportation, MassRides, and MassBike. Details about schedules, activities, events, and locations are available at www.baystatebikeweek.org, or contact Johanna Stacy, Bike Week Intern, at (413) 781-6045 or jstacy@pvpc.org.