Spencer Property Assessment and Reuse Plan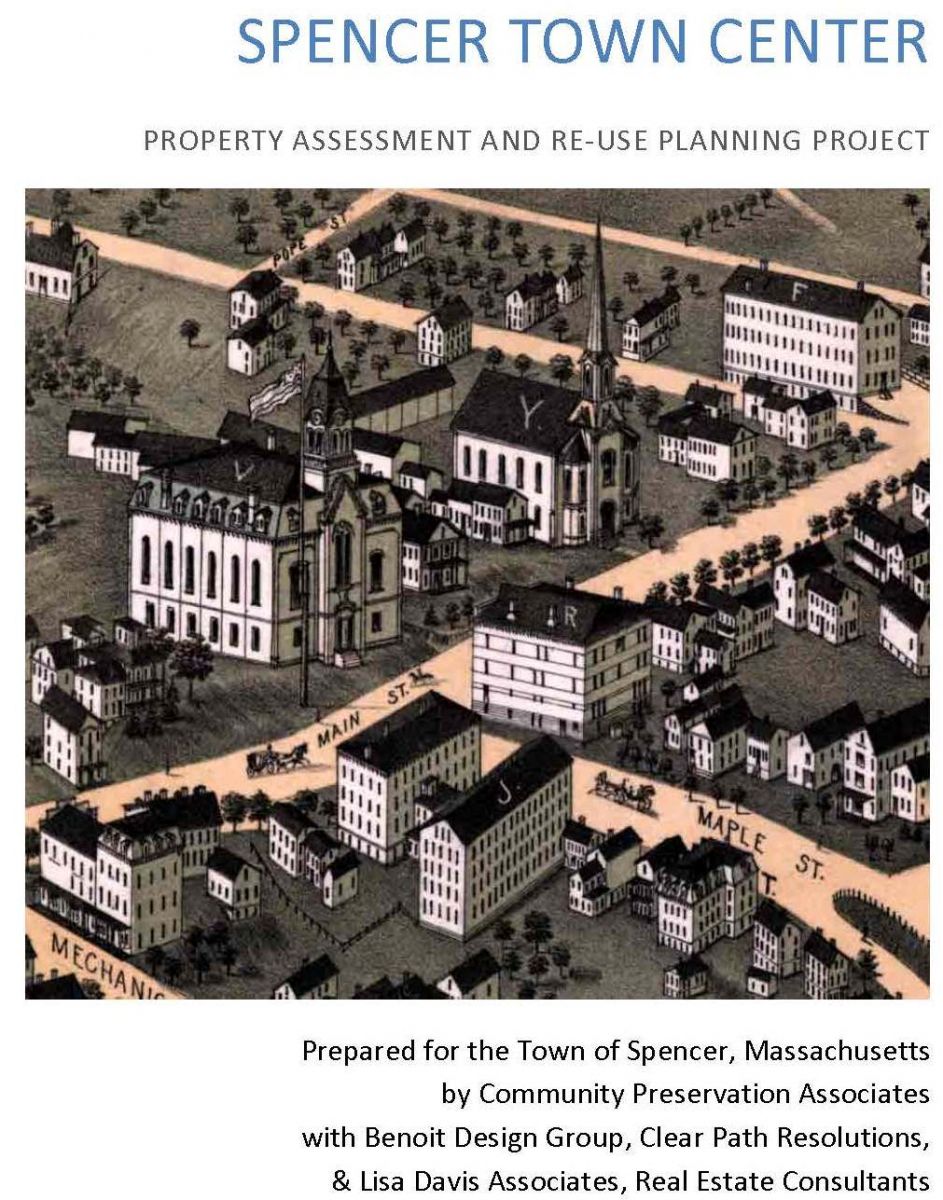 Updates
March 23, 2015
The project consulting team presented the draft final report to Spencer's Board of Selectmen during today's forum; many thanks to all those in attendance. Spencer invites property owners to review the assessment(s) and property data in the report, which is available here (note: this is a large file at around 19MB). Following review of the report, property owners and other interested parties may contact Michelle Buck (Town Planner, mbuck@spencerma.gov or 508 885-7500 x180) or Adam Gaudette (Town Administrator, agaudette@spencerma.gov or 508 885-7500 x1855) to discuss the plan and opportunities to improve their investments in downtown Spencer. A copy of the slides displayed at the forum is available here. 
March 6, 2015
After a winter of planning activities by the consulting team, the third public forum for this project is set for Monday, March 23, 6:30PM in the Selectmen's meeting room at Town Hall (see flyer here). At the forum, key properties and clusters of properties in need of revitalization will be identified and potential implementation actions outlined. Check back here in advance of the forum for contact from the draft final planning document.
October 30, 2014
The second public forum was held October 29 - many thanks to the 30 or so property owners, business operators and interested citizens who participated and provided valuable input. As mentioned at the forum, the powerpoint presentation is available online (click here). Another forum is expected to be held in December to present property-specific revitalization concepts and implementation strategies. 
October 2, 2014
The property list has been further refined to 58 parcels, with a map available here, a site list here and an explanation of the property selection process here. The 2nd public forum has been set for October 29 at 6:30PM at Spencer Town Hall. The forum will provide the Board of Selectmen and members of the public with an opportunity to review the results of field survey work and to discuss next steps for plan development.
August 8, 2014
Approximately 50 properties have been selected for study so far, based on field work and data review by Town staff and the consulting team led by Community Preservation Associates. A current list is viewable below under 'Documents'. A map of these sites is online here. Note that a few sites from the list could not be mapped properly and were omitted from the map.
June 3, 2014
A public forum has been scheduled for June 16 at 6:30PM at Spencer Town Hall to discuss this project with the Board of Selectmen and interested members of the public.
Project Summary
Spencer's Property Assessment and Re-use Planning Project (PARP) will assess 50-60 "distressed" buildings and sites in the downtown Spencer target area. Distressed properties are those which contain abandoned, vacant, blighted, and/or foreclosed structures. After determining site restrictions/limitations, preservation considerations, building conditions, and restoration/rehabilitation costs, re-use recommendations will be developed to guide potential redevelopment at each site.
Public participation will be a key component of this project, with at least 4 public meetings to be held to discuss re-use preferences and strategies for key properties. Downtown Spencer residents, property owners, business operators and other stakeholders are encouraged to participate in this planning process. Occasional project status updates will be posted online here.
Major tasks under this planning project include:
Task 1. Building Assessment (est. 50-60 properties)
Initial inspection and assessment of structures. One page data sheet per structure including basic descriptive information, condition assessment, identification of required rehabilitation, and general estimation of cost.
Task 2. Site Assessment
Identification of property and site limitations of Task 1-identified sites. Assessment of infrastructure (water, sewer). Zoning review (allowances, restrictions, recommended modifications, etc.).
Task 3. Building and Site Re-use Recommendations
Develop re-use recommendations for each parcel (building and site) assessed per Tasks 1 and 2. Recommendations to include type of use, occupancy, redevelopment options (including demolition). commercial/mixed use suitability.
Task 4. Facilitation of Implementation Plan
Develop financing strategies to redevelop the identified sites as recommended. Engage regional development entities and (where possible) property owners for implementation. Identify and plan for any temporary relocation that may result upon implementation.
Task 5. Final Report
Compilation of findings of Tasks 1 - 4 including recommendation of action per building/parcel; recommendation of financing and related redevelopment considerations: development of a parcel database in a suitable and agreed upon format for the Town of Spencer.
At the completion of the project, the Town of Spencer will have a current, relevant, and professionally prepared plan that offers a road map for revitalization of key distressed properties within the target area. The resulting document will equip the Town with the information necessary to make informed decisions about public investment at key properties, and will assist and encourage investment by private property owners. The Town will also be able to use the information developed in this plan to seek future Community Development Fund resources (or other funds) to implement the plan.
This project is funded through a FY2013 Community Development Fund grant from the Massachusetts Department of Housing and Community Development to the Town of Spencer, using Community Development Block Grant funds from the US Department of Housing and Urban Development. This project is being undertaken by Community Preservation Associates of Arlington, Mass., with project management assistance to the Town of Spencer provided by the Pioneer Valley Planning Commission.