Hampden County Health Improvement Plan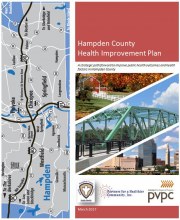 Background
In 2014, an informal collaborative of key planning, health, and political officials in Hampden County came together to organize a day-long forum to address the results of the Robert Wood Johnson Foundation which has ranked health outcomes in counties across the country for years, and in Massachusetts, Hampden County consistently ranks last. 
The key discussion at the forum was the conversation on the economic cost burden impacting local budgets resulting from our county's poor health.  The outcome of the collaborative was a proposal to organize a Hampden County-wide Health Improvement Plan (Hampden-CHIP). A county health improvement plan is a long-term, systematic effort to address public health problems on the basis of the results of county health needs assessments (CHNAs) completed by the Hospital Coalition to meet their IRS mandates.  Hospitals in Hampden County include Baystate, Baystate Wing, Baystate Mary Lane, Mercy Hospital, Holyoke Hospital, and Shriners Hospital.
Ideally, this plan will be used by health and other governmental, education, economic development and human service sectors, in collaboration with community partners to set priorities and coordinate and target resources in order to enhance health outcomes for Hampden County residents. Using a combination of what was identified in the CHNAs, the organizational structure of the Massachusetts State Health Improvement Plan, the typology of the County Health Rankings modified by the Regional Plan Association to include Land Use Planning, and the categories identified in the "Compendium of Proven community-Based Prevention Programs", we identified 5 Domains for Health Improvement Action Planning. These include: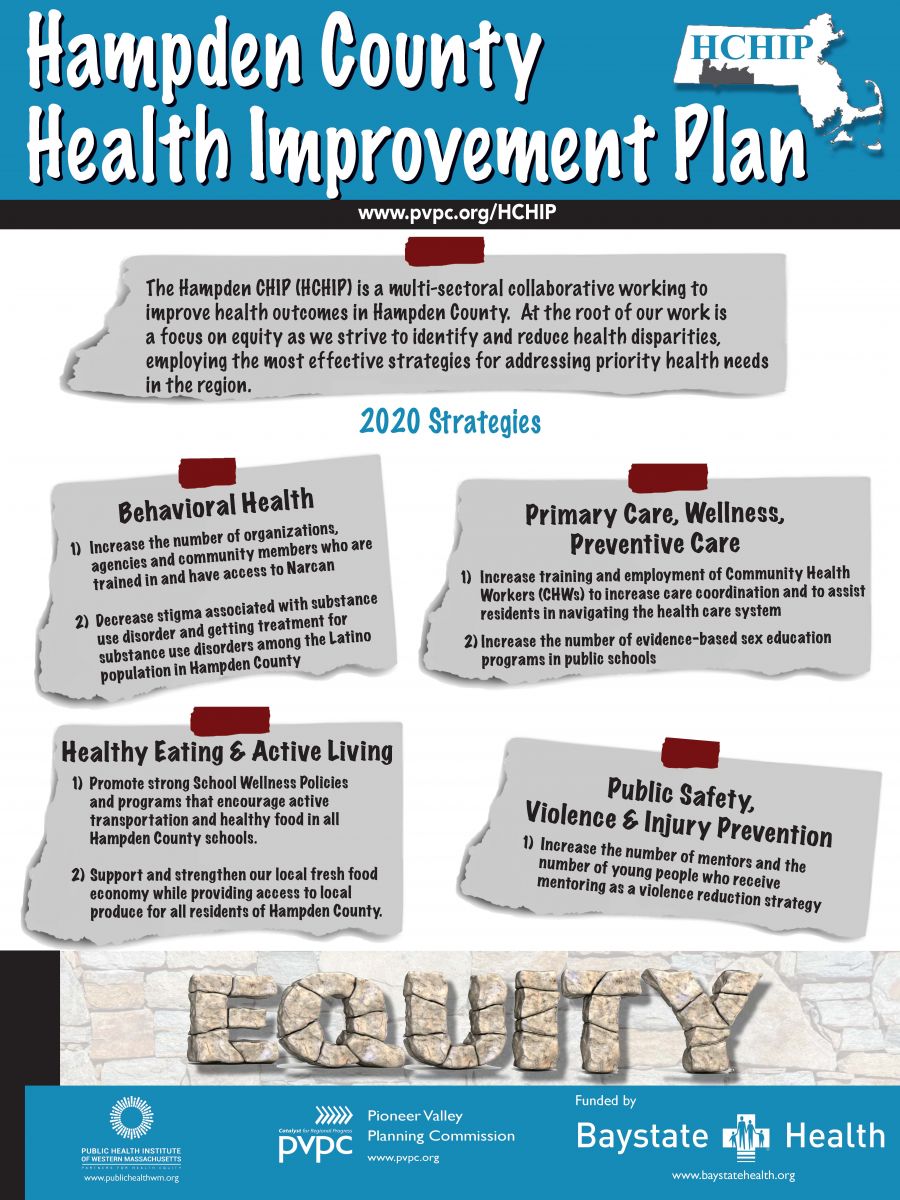 Domain 1: Health Equity and Health Disparities (access to opportunity in housing, employment and education)
Domain 2: Behavioral Health (mental health, substance use/abuse and treatment)
Domain 3: Primary Care, Wellness and Preventative Care (CVD, diabetes, asthma, STIs)
Domain 4: Healthy Eating and Active Living (food access and the built environment)
Domain 5: Public Safety, Violence and Injury Prevention (domestic violence, gun violence, childhood trauma)
Plan Implementation
In 2018, with funding from Baystate Health, PVPC and the Public Health Institute of Western Massachusetts (PHI) re-convened members of the Hampden CHIP Network to begin implementation of strategies presented in the 2017 CHIP. With a focus on health equity and the impacts of systemic racism, the structure for the CHIP implementation eliminated the Domain 1 working group and charged each of the other domain teams to review their priority strategies with an understanding of how these strategies disrupt health inequities caused by systemic racism.
Each Domain Team meets monthly to discuss ways to track and implement selected strategies. Links to pages for each Domain Team are as follow:
Mini Grants for Community Engagement
Thanks to funding from Baystate Health Systems, the Hampden CHIP Network is able to offer funds to help CHIP member organizations involve and support the capacity of people with lived experience in decision-making and oversight. The purpose of these grants is to provide incentives for community engagement and to remove barriers to participation by community members in the work of members of the CHIP Network, working on CHIP priorities. 
Grants of up to $500 can be used to support those serving on advisory councils or participating in focus groups, training to build capacity of board members and advisory councils, incentives to encourage members of the public to take surveys and attend community meetings, etc.​  
To apply for a CHIP Mini Grant, fill out the application form (below) and email to
bbasch@pvpc.org
. Applications will be accepted on a rolling basis until funding is expended. 
CHIP Network Meeting Agendas and Notes
Resources
Community Health Needs Assessments for area hospitals:
Co-Facilitators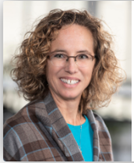 Kim Gilhuly
Research and Population Health Manager
Public Health Institute of Western Massachusetts
Email:
KGilhuly@publichealthwm.org
Documents
Hampden County Health Improvement plan
Improve health outcomes in Hampden County

hchip 2932.pdf