Food Justice: Past, Present and Future
Wednesday, March 11, 2015 - 4:00pm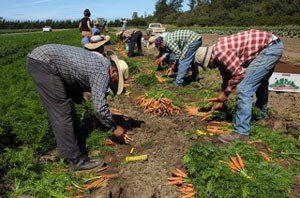 Who can buy healthy fresh vegetables in our region and who can't? Why and why not? How has institutional racism shaped access to healthy food in our region and beyond? What is needed to build a resilient food system that provides for all?
In support of the Massachusetts Food System Planning effort, the PV Grows Racial Equity Working Group invites you to a conversation about the practices of modern agriculture and food production dating back to plantation agriculture. Participants will examine some of the policies that have shaped conditions for food workers.
Participants will be asked for recommendations on how Massachusetts can provide everyone access to enough foor that is healthy, fresh, locally produced, safe, affordable, and culturally appropriate. The ideas generated at this event will inform the creation of an actionable plan to make our food system better serve our needs.
This event will take place at the Holyoke Senior Center, 291 Pine Street, starting at 4PM. Light refreshments will be served. For more information, contact www.pvgrows.net