Chicopee Urban Tree Care & Education Workshop
Tuesday, January 10, 2017 - 6:30pm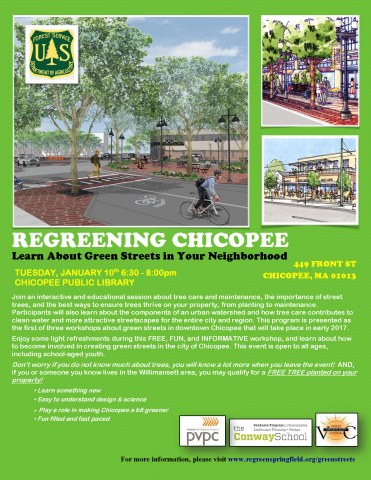 Join an interactive and educational session at the Chicopee Public Library about tree care and maintenance, the importance of street trees, and the best ways to ensure trees thrive on your property, from planting to maintenance. Participants will also learn about the components of an urban watershed and how tree care contributes to clean water and more attractive streetscapes for the entire city and region. This program is presented as the first of three workshops about green streets in downtown Chicopee that will take place in early 2017.
Enjoy some light refreshments during this FREE, FUN, and INFORMATIVE workshop, and learn about how to become involved in creating green streets in the city of Chicopee. This event is open to all ages, including school-aged youth.
Don't worry if you do not know much about trees, you will know a lot more when you leave the event!  AND, if you or someone you know lives in the Willimansett area, you may qualify for a FREE TREE planted on your property!
Learn something new
Easy to understand design & science
Play a role in making Chicopee a bit greener
Fun filled and fast paced