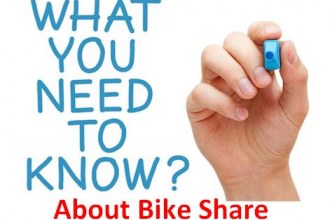 Bike share is an extension of the municipal/regional transit system, filling in the "last mile" of transit service not covered by rail or bus, and consequently is an important component of municipal/regional services that can be improved, made more efficient and supported through this regional initiative.
A bike share system consists of a network of stations placed throughout a municipality, from which a bike can be taken and returned to any other station. The availability of a bike sharing system is a relatively inexpensive and quick implementation extension to the existing public transit offerings in the communities that are core regional government services available to the public. It provides an option for urban transportation that will open up downtown's to a new form of exploration that is non-polluting, active, healthy, and engaging. For the last two years, Holyoke, Amherst, South Hadley, Springfield, and Northampton have been collaborating in partnership with the Pioneer Valley Planning Commission, to advance efforts that will bring bike sharing to the region. After completing numerous studies, drafting a system that works for the city, town, and the region, and securing federal funds to help with the purchase of the equipment capital, the goal currently is to implement a pilot scale program by Spring of 2018.
Many bike share programs have been able to cover all or a portion of their operating costs by utilizing a combination of sponsorship, advertising, and user revenue fees which the municipalities look to leverage to sustain the annual operating costs of the program. Federal funds have been recently secured to purchase the necessary capital equipment, including bikes and bike stations, for all participating communities of the ValleyBike Share system.
Photos: ValleyBike Steering Committee tests different bikeshare vendor models: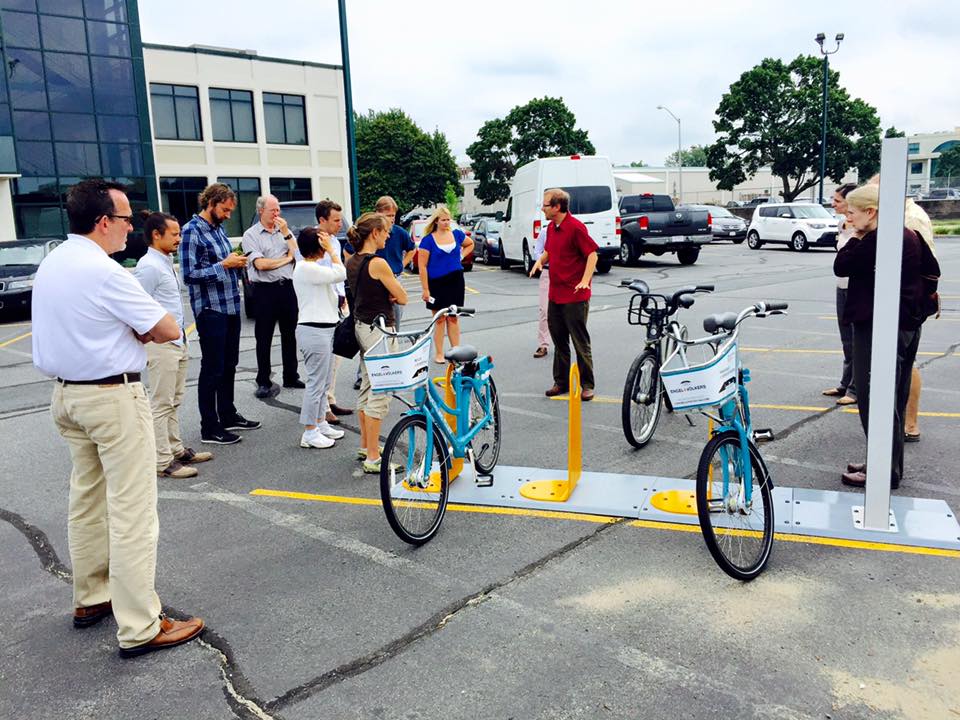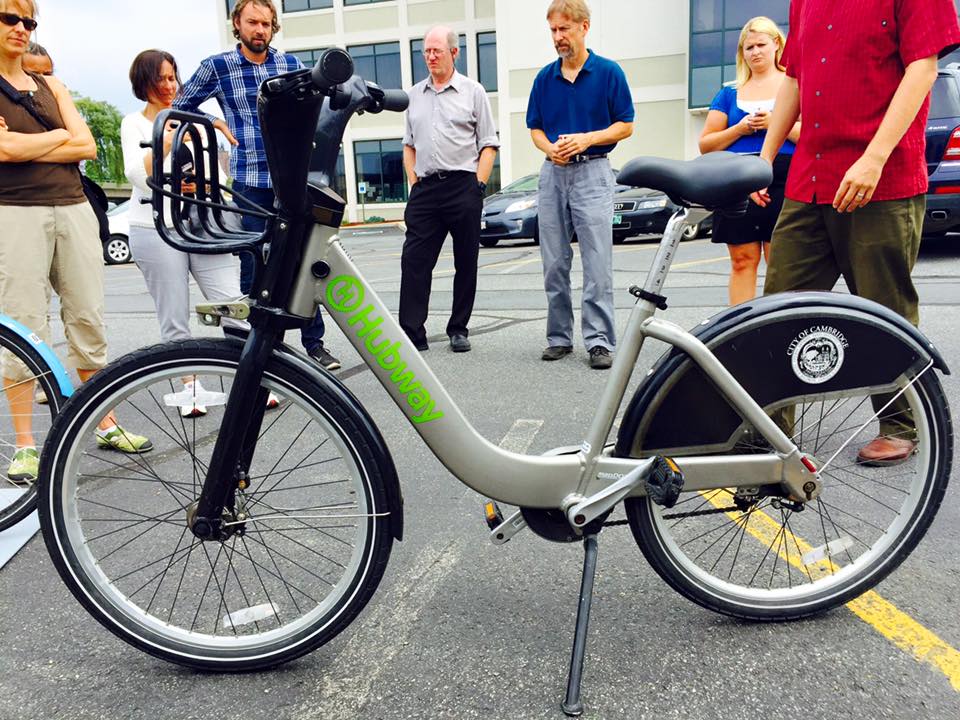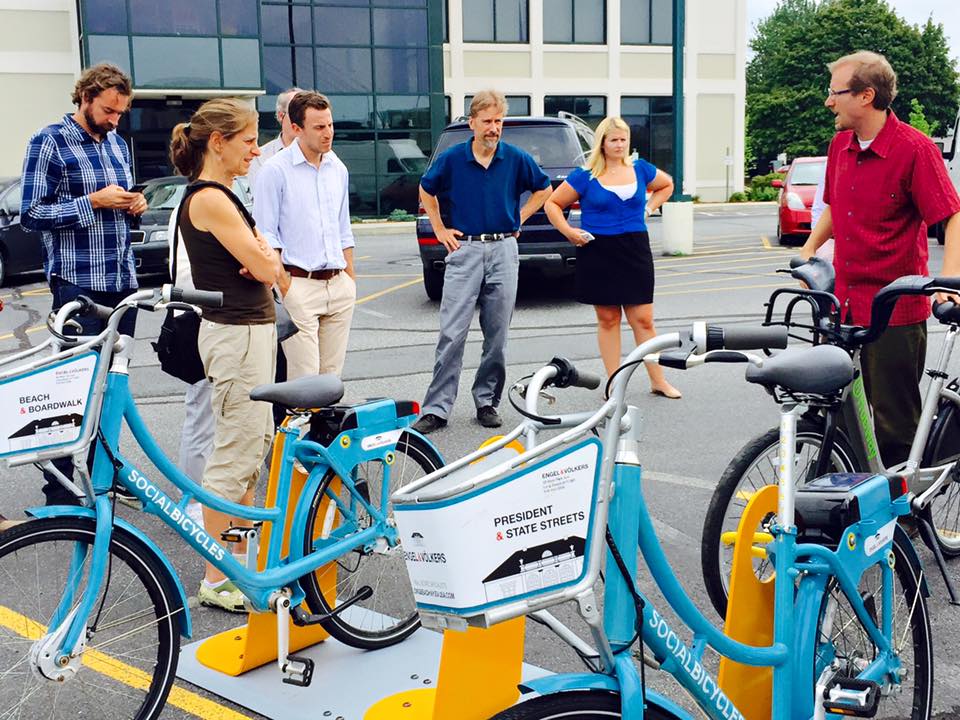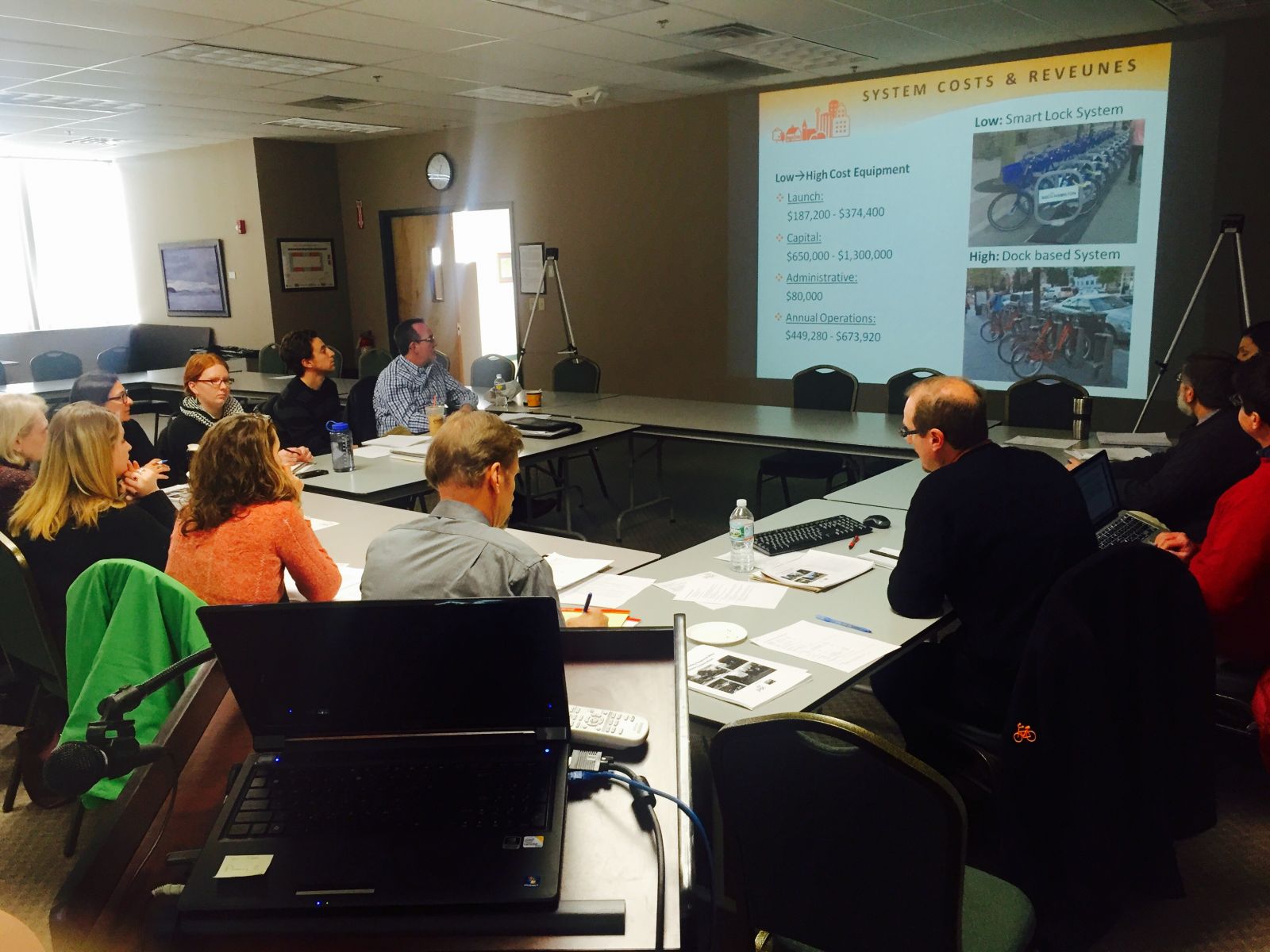 ​
PROJECT OBJECTIVES:
Project objectives are to extend the regions public transit system by supporting both the bus and rail public transportation infrastructure, services that are critical local and regional government services. This innovative public transportation alternative seeks to achieve the following goals and objectives:
To use bicycles to enhance and extend the range of the transit and rail services;
To solve the "last-mile problem" by expanding the distance people can easily travel in order to get to the nearest destination;
To promote healthy, active living and support recreational use of bikes;
To build demand for bicycle infrastructure, including bike lanes and  bike parking;
To provide visitors and local residents with an effective means of moving around the region, that is equitable and inclusive of elderly, lower income and other traditionally underserved populations;
To promote economic development including jobs and schools;
To promote green transportation and reduce greenhouse gas emissions;
To create a bike share system that is financially sustainable;
To create a bike share system that functions regionally;
To make use of local opportunities to support bike sharing, such the prevalence of large health care institutions, the number of higher-learning campuses and large student population, and supportive local businesses;
Create more livable communities, and reduce the need for new areas to be developed for additional parking in our urban core and commercial areas.
REGIONAL CHARACTERISTICS THAT SUPPORT BIKE SHARE:
There are several major existing assets in the greater region that influences the use of a bike share system in which helps solve the "last-mile problem" by expanding the distance people can easily travel in order to get to their nearest destination. These assets include:
Rail Service: Passenger rail service in the Pioneer Valley is currently being upgraded. In early 2015, Amtrak's Vermonter line was rerouted to serve the Pioneer Valley and now includes stops at newly-constructed stations in downtown Holyoke and Northampton. Additionally, Springfield's Union Station is currently in the process of a $75 million renovation. When completed in early 2017, the station will be a multi-modal transportation hub for the city and the regions bus and rail service, which will greatly increase its use.
Moreover, the Pioneer Valley's Our Next Future Plan (2014) identified locations in the Pioneer Valley that are best suited for transit-oriented development (TOD). Transit-oriented development is generally mixed-use, dense, and walkable, in order to maximize the use of transit. The map in Appendix A shows all locations that were examined in the Pioneer Valley for potential TOD, shown in pink. After assessing the potential of these 30 sites based on their current walkability, density, and public transit availability, they were ranked and prioritized. Of the top ten locations in this prioritized list, most are located in Amherst and Holyoke as well as the other partners of this venture which includes Springfield, and Northampton. (See Appendix A - Locations Best Suited for Transit Orientated Development in Amherst, Springfield, Holyoke, and Northampton). As for South Hadley, the town sits directly in between Holyoke and Amherst which will link these communities for riders who look to utilize the system for travel cross-jurisdictionally.
Bus Service: The Pioneer Valley Transit Authority provides bus service to 24 municipalities in western Massachusetts, including Amherst, Holyoke, and South Hadley as well as Springfield, and Northampton who are participating in the regional bike sharing system. The system's 46 scheduled bus routes  mostly radiate from four service hubs, or "pulse" points: the Springfield Bus Terminal (to be relocated to Union Station in 2017), the Holyoke Transportation Center, downtown Northampton, and the

UMass

Amherst / downtown Amherst corridor as well as several routes that serve the Five College area (Northampton, Hadley, South Hadley, and Amherst).
PVTA's annual ridership is just over 11 million and the system has approximately 15,000 to 20,000 regular riders. The Springfield Bus Terminal has approximately 7,500 PVTA customers traveling on approximately 550 buses each weekday. Surveys conducted by the PVTA have found that riders primarily use the system for commuting to work and school. Most residents have low incomes and are dependent on the bus for transportation, with almost 75 percent of riders make less than $20,000 per year, 60 percent of riders not owning a car, and 80 percent indicating they have no other way to make their trip other than using PVTA. A bike sharing system will greatly benefit these riders as it will provide a convenient alternative for trips that are too far to walk but not far enough to justify waiting for a bus.
Colleges and Universities: Marketing to young and urban populations is relatively easy and inexpensive, since they often respond strongly to social media and word-of-mouth outreach.  Bike share can connect students to nearby downtowns and other popular destinations such as shopping and entertainment districts. 
There are 13 public and private colleges and universities located within the region, and 10 of these are located in Northampton, Amherst, Holyoke, South Hadley, and Springfield. Together, these educational institutions employ over 13,000 people and have a student enrollment population of more than a 100,000 within two distinct geographic clusters. In the northern half of the region, the well-known Five College area is home to the University of Massachusetts Amherst, Smith College in downtown Northampton, Mount Holyoke College in South Hadley, Hampshire College, and Amherst College. These five institutions together graduate approximately 6,000 to 7,000 students a year and employ approximately 8,382 people. The University of Massachusetts in Amherst employs approximately 4,800 people, making it the largest educational institution in the region and the third largest single employer within the Pioneer Valley. In the southern half of the region, the Cooperating Colleges of Greater Springfield encompass the remaining eight colleges within the Pioneer Valley region. These eight colleges - American International College, Bay Path College, Elms College, Holyoke Community College, Springfield College, Springfield Technical Community College, Western New England College, and Westfield State University - employs approximately 3,922 people and graduate nearly 7,000 students a year. Together, the 13 colleges and universities afford residents of the Pioneer Valley region a multitude of educational opportunities and provide employers with an annual pool of skilled talent. This broad higher education sector provides the region with a strong employment base and a superior foundation from which to launch many of the region's economic development initiatives. The students and employers of these institutes are likely users of a bike sharing system.
Employment at Hospitals: Employing even more workers than the region's colleges and universities are the Pioneer Valley's 12 hospitals, which employ a total of 12,461 workers. The majority of the hospitals are located within Holyoke, Springfield, and Northampton.  Baystate Medical Center in Springfield is the region's largest hospital and employer with 4,737 full-time employees on its payroll. Cooley Dickinson Hospital in Northampton is the second largest with over 1,600 employees. In addition, Holyoke Hospital and Mercy Medical Center in Springfield also boast substantial employment for the region and their host communities, with over 1,400 and 900 employees respectively. Overall, the health care industry is growing in the region and provides a source of well-paying jobs with good benefits which is a potential market for a bike share program.
GREATER BENEFITS:
Major benefits a bike share system achieves within a community and the greater region will include:
Bike share systems create "green" jobs for managing and operating the system;
It is an affordable transportation alternative for low-income families. For most families, transportation costs are the second highest cost, after housing, as a percentage of household expenditure. The cost to access a bike share program can be as low as the annual membership fee of $70 - $100, which is subsidized for low-income users in some cities. Bike sharing may reduce the need for a second vehicle in some households;
Bike share systems can help businesses to attract additional customers, and to provide their employees with an inexpensive option for commuting to work or making short trips during the day. Businesses can also benefit from sponsoring or advertising at bike share stations;
Bike share systems can be an attractive, high-profile addition to a city that draws tourists and visitors;
The bike share system will be publicly owned therefore it is recognized as a local government service connecting the public to their last-mile destination;
Bike sharing has a positive impact to the environment. 25% percent of bike share trips replace vehicle trips, thus reducing carbon emissions. It also reduces dependence on the private automobile, with commensurate benefits in air quality;
A bike share system also provides greater health benefits. Bicycling is an accessible low-impact form of physical activity, with well-recognized health benefits to reduce obesity, heart diseases and other sedentary lifestyle diseases. With rising numbers of people affected by these health issues, bike sharing can benefit overall community health.
Associated Communities:
Holyoke
Springfield
Northampton
South Hadley
Amherst